Saint Vincent de Paul School campus is expanding
Friday, Jan. 18, 2019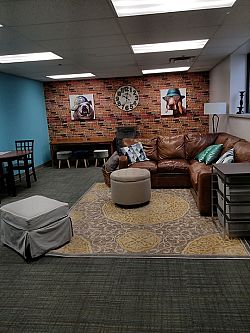 Courtesy photo /St. Vincent de Paul School
+ Enlarge
SALT LAKE CITY — Saint Vincent de Paul School is nearing completion of several projects on their campus.
Last June, the Nano Nagle Children's Center began a renovation and expansion project to accommodate the many families on their waiting list, and to reduce class sizes. The expansion also enabled the 3-year-old program to move from the Extended Day Program space in Holy Family Hall and return to the Nano Nagle building earlier this month.
"We are so grateful to everyone who donated and helped us make this amazing project a reality. I can't think of a better way to celebrate our 10th anniversary," said Nano Nagle Director Jeramie Green.
With the 3-year old children in the new Nano Nagle wing, the Extended Day staff used the space to create a new area for students in grades 4th through 8th that attend the after-school program.
"We call the new area 'The Lounge,'" said Danielle Gibson, Extended Day director. "It is a safe, fun environment for the older students to hang out, do homework, and play games until they are picked up in the evening."
The St. Vincent de Paul Catholic Church also has been renovated; changes include new lighting, a hardwood floor in place of the old carpet, and a new baptismal font.
A campus open house will be held on Sunday, Jan. 27 from 10 a.m. to 2 p.m. Prospective families, members of the parish, and others interested in the campus may tour the school and extended day program, the newly renovated church, and the newly renovated and expanded Nano Nagle Children's Center. The campus is located at 1385 E. Spring Lane, Salt Lake City.
Courtesy of St. Vincent de Paul School