Ruby Davis
Friday, Jun. 02, 2023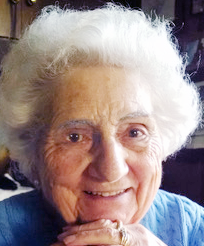 Courtesy photo
+ Enlarge
August 4, 1923 ~ May 24, 2023
Ruby Dalnodar Davis, 99 years young, passed away peacefully on May 24, 2023, surrounded by her loving family. Ruby was born on August 4, 1923, in Superior, Wyoming, the youngest of four siblings, to Erminia Anselmi and Bortolo Dalnodar. After graduation from Stevens-Henager Business College at the top of her class, she was selected to work as a secretary for Mr. Henager and was later employed by the State of Utah.
She married Jack Bullock Davis on April 18, 1950, at St. Ann Parish. They loved each other deeply and enjoyed 56 years of marriage until his sudden passing in January 2007. This marriage produced nine amazing children, each different and all of whom knew they were both loved and the favorite child.
She was first and foremost a loving wife, mother, grandmother, great-grandmother and great-great-grandmother. She was also a mentor and mother to many of her children's friends, revered for her kindness and common-sense advice and famous for her homemade bread and scones. No one would ever leave hungry or without a loaf of bread when visiting. She was ahead of her time by somehow managing to raise a large family while simultaneously working for Tupperware for over 35 years.
She was a lifelong Utah Jazz fan and also played golf for many years with both the Bonneville Ladies Golf Association and the Chevron Oil Golf Association. She was also a member of St. Ann's Parish since 1950 as well as a member of the St. Ann's bereavement committee for many years. She was the recipient of the St. Ann Parish Woman of the Year award.
Ruby is preceded in death by her beloved husband Jack, daughter Jill, son Bob, son-in-law Joe, parents, siblings Olga Dalnodar, Jennie Stanga, Americo Dalnodar and nephew Gary. She is survived by her children Dianne (Ingo), Pat (Ron), Lisa (Mike), Lori (Joe), Bill, Jackie (Glenn), James, Jill (Scott), nephew Burt and wife Susan, as well as 22 grandchildren, 15 great-grandchildren and four great-great-grandchildren.
A funeral Mass will be celebrated on Wednesday, May 31 at 1 p.m. at St. Ann Catholic Church, 450 East 2100 South, Salt Lake City; visitation will be held one hour prior to the service. She will be laid to rest with her husband at Wasatch Lawn Memorial Park.