Paul Valdez
Friday, Jun. 02, 2023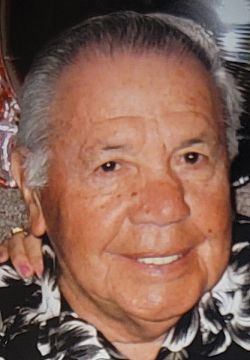 Courtesy photo
+ Enlarge
July 24, 1931 ~ May 16, 2023
Paul Valdez, 91, passed away on May 16, 2023 surrounded by his loving family. He was born on July 24, 1931 in Holman, New Mexico to Benancio and Maria Amalia Valdez. He married the love of his life, Claudie Valdez, on Jan. 8, 1954.
Paul moved with his family to Bingham Canyon, Utah when he was 9 years old. He played high school football and ran track at Bingham High School. After he graduated, he proudly served his country in the United States Air Force. He had a career he loved, working at Kennecott Copper Mine for 38 years, where the majority of the time he was a locomotive engineer. He also spoke fondly of his second career as a hall monitor at West Jordan High School, where he felt he was able to help guide students.
Paul had many interests, including coaching Little League baseball for over 20 years, bowling, golfing and camping with his large extended family where he enjoyed listening to his brothers Roger, Robert and Ed singing and playing the guitar. He especially loved "snowbirding" in Yuma, Arizona with his beautiful wife for almost 18 years.
Family was the most important thing in the world to Paul. He treasured every gathering with his immediate and extended family, never missing a single event. Paul will be truly missed by everyone who knew him. The patriarch, "El Jefe," of our family, we love him forever. He was a pillar of support for those he loved, and we will always remember his steadfast loyalty.
He is survived by his wife of 69 years, Claudie Valdez; children Kathy, Brenda (Tony), John (Shelly), Paula (Shelby-deceased); grandchildren Tessa (Spence), Kerri (Tyler), Amber (Ed), Steven, Angelique, Jonelle (Shane), Brittney (Ryan), Maranda (Austin), Dannika, Vinnie, Samantha (Paul), Jason (Katie), Jeanette (Clay); 24 great-grandchildren and two great-great-grandchildren. He is preceded in death by his baby daughter; parents Benancio and Maria; brothers Timoteo, Lawrence, Roger, Robert; grandchildren Misty and Anthony.
A funeral Mass was celebrated on May 22 at Blessed Sacrament Catholic Church in Sandy. Interment followed at Memorial Mountain View Mortuary and Cemetery, Cottonwood Heights.