Ordinations: Deacon Oscar Marquina
Friday, Jun. 02, 2023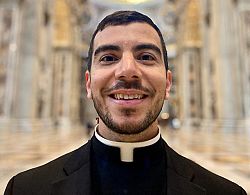 Archive photo
Photo 1 of 2
On June 30, Deacon Oscar Marquina and Deacon André Sicard will be ordained to the priesthood, and Anthony Shumway will be ordained as a transitional deacon. Bishop Oscar A. Solis will preside at the 6 p.m. ordination Mass at the Cathedral of the Madeleine. All are welcome, but seating will be limited.
SALT LAKE CITY — Deacon Oscar Marquina grew up Catholic, but it was it wasn't until he was in early adulthood that he felt a call to the priesthood.
Marquina, whose family emigrated from Venezuela, came to Utah when he was 13. As a child, he regularly attended Mass with his family, but "my personal practice and deep ownership of my faith began during my college years," he said. "Faith holds a prominent place in Utah, and it was impossible to evade the question of 'What do I believe?' I embarked on a search by attentively participating in Mass, studying Scripture, embracing the sacraments, volunteering and delving into the rich teachings of the faith."
In his native country Deacon Marquina attended an Augustinian elementary school for five years, but in Utah he attended public schools because his family was not aware of the Catholic education opportunities available, he said. After high school, he completed a bachelor's degree in environmental engineering at Utah State University and worked as an engineer in the consulting industry for four years.
"While I found fulfillment in my work, there was a deep longing in my heart that could only be satisfied by dedicating myself to the Church and pursuing a vocation in the priesthood," he said.
Later, while working as an engineer in Chicago, Deacon Marquina became very involved in his local parish and began to develop a profound relationship with Christ, he said. After one event, his pastor asked him if he had considered the seminary, and "That evening, as I walked home, I realized that God was calling me to consider the priesthood," he said. "Over the next two years, I discerned this calling, reflecting on the blessings Christ had bestowed upon me. Eventually, I made the decision to move back to Utah and apply for the seminary."
He was accepted, and now is attending the Pontifical North American College in Rome, Italy.
"It is an incredible privilege to be in the heart of the Catholic faith, surrounded by the holy sites and relics of saints and martyrs, including St. Peter and St. Paul," he said. "This seminary offers a unique experience as I am accompanied by seminarians from various states across the United States and Australia, fostering a rich cultural and spiritual exchange. Furthermore, my classes are conducted in Italian with students from all around the world."
A native Spanish-speaker, Deacon Marquina said his command of Spanish enabled him to understand a significant portion of Italian being spoken at the seminary "right from the first day. "
His seminary experience has been formative and enriching, he said. "The best part is being surrounded by fellow seminarians who share a common desire to develop a deep relationship with Christ, grow in holiness and serve our community. Their support and camaraderie create an environment conducive to personal and spiritual growth."
Deacon Marquina will be ordained as a priest by Bishop Oscar A. Solis at the Cathedral of the Madeleine on June 30.
"I feel a deep sense of peace and profound humility as I approach my upcoming ordination," he said. "Recognizing that this path to the priesthood is not a common one, I am immensely grateful to God for his call and the grace and love that allow me to respond in kind."
Being ordained by Bishop Solis is particularly meaningful to him "as one of the promises I will make during ordination is obedience to Bishop Solis and his successors, ensuring a strong bond between us," he said.
Being able to administer the sacraments will be a joyful experience, Deacon Marquina said. "I would have the privilege of being a conduit for God's grace, witnessing personal transformations, and fostering a deep connection with Christ and his faithful," he said. "It is a profound honor to facilitate these encounters with Christ that bring strength, joy and divine life."
After his ordination, he will return to Rome for an additional two years to pursue a licentiate in canon law. "This additional expertise will enable me to serve our diocese not only as a priest but also as a canon lawyer," Deacon Marquina said. "I hope that the members of my future parish and those I work alongside know of my dedication and prayers for them and the Church."
Deacon Marquina will celebrate his Thanksgiving Mass on Saturday, July 1 at 11 a.m. at St. Thomas Aquinas Catholic Church in Hyde Park.