Ordinations: Deacon André Sicard
Friday, Jun. 02, 2023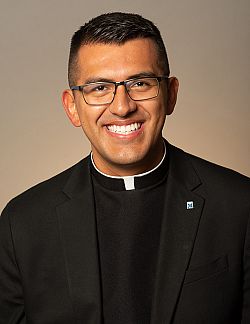 Archive photo
Photo 1 of 2
On June 30, Deacon Oscar Marquina and Deacon André Sicard will be ordained to the priesthood, and Anthony Shumway will be ordained as a transitional deacon. Bishop Oscar A. Solis will preside at the 6 p.m. ordination Mass at the Cathedral of the Madeleine. All are welcome, but seating will be limited.
SALT LAKE CITY — On June 30, André Sicard, a St. Therese of the Child Jesus parishioner, will be ordained a priest by Bishop Oscar A. Solis at the Cathedral of the Madeleine. It is a vocation he has been preparing for his whole life, Deacon Sicard said.
"I am extremely excited about my upcoming ordination and am overwhelmed with a spirit of gratitude for all the blessings I have had during my whole life that have led me to this moment," he said. "I am also overwhelmed with gratitude for my family and for all the people who have prayed for me during my seminary formation. I would simply not be where I am if it were not for the sacrifices and prayers of so many people in the diocese."
Deacon Sicard was born in Bogotá, Colombia; he and his family moved to Utah when he was 2 years old. He was drawn to the priesthood even as a small child. "Ever since I can remember my family went to Mass every week and we would go to Eucharistic adoration, pray the rosary, and pray other devotionals together," he said. "Becoming a priest was always something that was in the back of my head as I grew up. I credit my parent's deep trust and faith in God, especially as immigrants starting a life in a new country, as a seed that planted in me my own vocation and faith in God."
Deacon Sicard attended public school and graduated from Jordan High School in 2015. "I was always interested in our faith and wanted to learn as much as I could," he said. "I was encouraged often by parishioners and priests at my parish to think about the priesthood. I even remember in middle school, we had a simulation one day where we had to choose a profession and live like them for a day, and I remember I chose being a Catholic priest."
As a teen, Deacon Sicard was already focused on becoming a priest. He met with the diocesan vocations director at the time, Deacon Ricardo Arias, and began working toward that goal. "During high school, I came to have a great love and interest for liturgy, particularly through liturgical music," he said. "This was extremely formative for me. This all helped solidify my thinking about priesthood."
As a high school senior, Deacon Sicard knew he wanted to become a priest but was nervous about leaving home to attend seminary. He even considered attending the University of Utah for a year before enrolling in the seminary. One day as he pondered what to do, he came across a daily Gospel reflection by Sister Colleen Gibson that said, "While we long to know what's ahead, we can't. All we can do is boldly go where the Spirit leads, a place deep in relationship with God, self and the world ... a place we call the Kingdom."
Reading that, "I felt God speak to me through these words and give me the answer I was looking for," Deacon Sicard said. "I knew that I needed to trust God and take the jump to where the Spirit was leading. The next day I began my application for Mt. Angel Seminary."
Deacon Sicard attended Mt. Angel Seminary in St. Benedict, Ore. for four years and graduated with a bachelor's degree in philosophy, literature and religious studies in 2019. For the past four years he has attended Theological College at The Catholic University of America in Washington, D.C. and recently graduated with a Bachelor of Sacred Theology.
"My seminary experience has been an incredibly blessed adventure with the Holy Spirit, and I fall more in love with Jesus Christ," he said. "My favorite thing about seminary has been to journey alongside other people who are discerning God's call, and walking together as we learn together how to minister in and for the Body of Christ."
As he looks forward to serving in the diocese, Deacon Sicard wants the faithful in Utah to know that he sees himself as a fellow disciple and member of the Body of Christ "who will strive to accompany, encourage and serve them as we work to build up the Kingdom of God with the Spirit's help," he said.
"I think the most joyful thing about becoming a priest will be to be present and journey with people at some of the most important moments in their life," he said. "To be present in people's most joyful and saddest moments and bring them the love of Jesus Christ will be life-giving."
Deacon Sicard encourages young people who may be considering a vocation to the priesthood or religious life to share their thoughts with friends, family, their pastor, deacon or vocations director. "Most importantly, talk to God," he said. "You may never know where God is calling if you keep it to yourself. Trust in God's providence no matter where it takes you and you'll never regret it."
Deacon Sicard's Mass of Thanksgiving will be celebrated on July 1 at 5:30 p.m. at St. Therese of the Child Jesus Catholic Church in Midvale.