Ordinations: Anthony Shumway
Friday, Jun. 02, 2023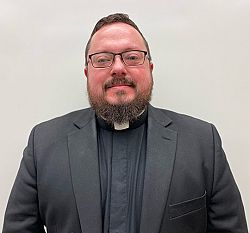 Archive photo
Photo 1 of 2
On June 30, Deacon Oscar Marquina and Deacon André Sicard will be ordained to the priesthood, and Anthony Shumway will be ordained as a transitional deacon. Bishop Oscar A. Solis will preside at the 6 p.m. ordination Mass at the Cathedral of the Madeleine. All are welcome, but seating will be limited.
SALT LAKE CITY — Seminarian Anthony Shumway fell away from the faith before he returned to embrace God's path for him.
A cradle Catholic and Utah native, Shumway, 34, attended St. Martin de Porres Catholic Church regularly as a child with his older sister Sandra and his parents, Scott and Lisa Shumway, who are very active in the faith.
However, in his teens, his faith began to waver.
"I didn't hold my faith in enough value to care where I worshipped," he said. "I was one who believed that there is a God, that Christ died for me, and it didn't matter where I worshipped."
Shumway began to attend another Christian church with his girlfriend at the time so he could spend more time with her. When the couple broke up shortly after he left Utah to attend Spartan College of Aeronautics and Technology in Oklahoma, he still chose not to return to Catholic worship.
"I didn't believe that I needed to be in a building to be able to worship God," he said. "I was much more of a 'I can experience God so much more in his creation' person."
Pursuing a career in aeronautics became Shumway's only focus. He earned a quality assurance certification at Spartan College, then began what he considered his dream job in Los Angeles at SpaceX. With worldly success he thought he should be happy, but instead he felt a great void in his life, Shumway said.
He decided to move back home, but finding employment proved to be difficult.
"Every inspection job that I qualified and applied for, I was always the second candidate in line for it," he said.
Eventually he took a job in construction. His parents have a rule that to live in their home, one must attend church with them, so he did. During Lent he began attending daily Mass, and one day a poster with the question "Are You Called to the Priesthood?" seemed to resonate with him.
"It pushed me toward thinking 'Maybe this is something for me; maybe all of this is happening to push me to this moment,'" he said. "I knew something was missing in my life in Los Angeles, and it was a returning to home to try and figure out what was missing. It was through a returning to prayer, learning how to pray, that I really began to feel that God was calling me to the priesthood."
A year later, in August 2015, Shumway entered Mt. Angel Seminary in St. Benedict, Ore., where he has flourished, completing a Bachelor of Arts and philosophy and currently completing masters' degrees in divinity and systematic theology, and a baccalaureate of sacred theology.
The seminary experience "has been one of the most amazing but hardest things of my life," he said. "It's amazing because in seminary you're surrounded by like-minded men who want to do nothing but serve God. It's one of the most inspiring places to be."
The seminary also is difficult because it's "supposed to be rooting out men who are not truly called to this life, to the priesthood," he added. "Spiritually, it is one of the hardest things. You're constantly being tempted by the world, constantly being pulled in other directions. We're constantly being reminded of what we're giving up, but we're doing it because God has asked us to."
He will take the next step on his path to the priesthood on June 30, when he will be ordained a transitional deacon by Bishop Oscar A. Solis at the Cathedral of the Madeleine.
"I am so excited," he said. "For years, I've been coming back and helping with the ordinations. It really hasn't fully hit me that I'm going to be at my own ordination, not at somebody else's. This is what I've been preparing for the last eight years, really my whole life. … I look forward to being back home with the people of the diocese, bringing Christ to them and letting them experience Christ in a way that changes their lives."
As Shumway looks back on his youthful idea that God could be experienced more in nature than in any building, he now sees clearly how flawed that belief was, he said. "Yes, you can experience God in his creation in any place, but why would you want to just experience him by what he created and not experience God himself in the Eucharist? Nowhere else in creation can you look and see the face of God except for in the Eucharist, and there's nothing that changes you except for the Eucharist."
For the summer, Shumway will be assigned to St. Joseph Parish in Ogden; in the fall he will return to Mt. Angel to continue his education.