Knight of the Year Stacey Yeager is an example of 'what a Catholic man is all about'
Friday, Jun. 02, 2023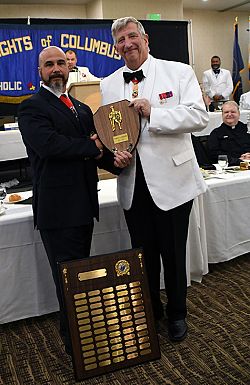 IC photo/Marie Mischel
+ Enlarge
LAYTON — Stacey A. Yeager, Grand Knight of Hill Air Force Base Council 16127 and District Deputy of District Number 10, received the 2023 Knight of the Year award during the May 6 awards banquet that was part of the Utah Knights of Columbus's state convention.
At the banquet, Council 16127 also was presented with the Community Award for its "Feed the Hungry" program.
Yeager joined the Knights in 2015, shortly after retiring from a career in the U.S. Air Force.
A cradle Catholic, Yeager had never seen a Knight of Columbus until his brother-in-law, Father John Evans, now pastor of St. Thomas More Parish, was ordained. Members of the Knights attended Fr. Evans' first Mass, which was celebrated at St. Rose of Lima Catholic Church in Layton. Yeager's curious was piqued, and he began to ask what the Knights were about.
A year or so later, Council 16127 at Hill Air Force Base was formed. At the same time, "I just retired from the Air Force and I felt I lost a brotherhood," Yeager said.
Before retiring, Yeager was asked many times to become involved in his parish as a lector or with the RCIA program, but "I could not teach about this or that when I wasn't feeling so good about myself," he said.
However, when he joined the Knights, he started to get more involved with the community.
"When I retired I lost that sense of helping people, of protecting people and doing things like that. … [Joining the Knights] felt like I was on the right path again," he said adding that he began to minister as a lector at the base parish. Now he is also an RCIA instructor, usher and parish advisory board member. "All the things that I was asked to do in the beginning – now, years later, after being a Knight, I feel comfortable doing it all."
The nomination for Yeager as Knight of the Year agrees, reading, "Since joining, he been very active at every organization level; that includes council, assembly, district and state."
For his council, Yeager has served as a financial secretary, Grand Knight, Faithful Navigator and Marshal. In addition, he currently serves as District Deputy 10 and as State 4th degree Warden.
"This man has enormous energy, and considering everything he has done in the last eight years, he still has gas in his tank," the nomination states.
Some of Yeager's most notable achievements include building a youth baseball field at Hill Air Force Base from the ground up, participating in Color Corps Training events and numerous honor guards, and developing initiatives for both the parish and council to continue operations during the pandemic, according to the nomination form.
"Stacey always takes the initiative; when he sees a problem he steps up, volunteers and determines a path forward," the nomination form reads. "Stacey truly exemplifies what a Catholic man of the Knights of Columbus is all about. He has shown us through his giving of time, talent and treasure that he is a Catholic patriot who has given to God and country."
Being one of the youngest Knights in Utah to receive the Knight of the Year award has been an honor, Yeager said.
The Knights have taught him how to communicate with people better, which has helped him tremendously, he said. "I am feeling that I can go out and do great things. … Helping each other should be just common sense. … The Knights go out and work and get things done, and it makes helping others a good feeling."