Congratulations, Graduates: Juan Diego CHS Class of 2023
Friday, Jun. 02, 2023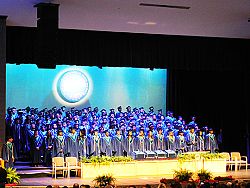 IC photo/Laura Vallejo
Photo 1 of 3
DRAPER — As the doors to Juan Diego Catholic High School's auditorium opened the morning of May 27, some of the people carried in bouquets of roses and others took pictures, but all seemed to share a joyful feeling as the Soaring Eagle Class of 2023 celebrated their commencement exercises.
With the auditorium full, other guests took seats in the school's gymnasium, which was decorated to welcome those attending the ceremony.
As is tradition, the commencement exercises started outside, with the 152 graduating seniors processing to the school's grotto to offer a red rose to the Virgin Mary, then proceeding to the gymnasium, where each signed the school's book. They then made their way to the auditorium, where they were presented to their parents and friends to the sound of the "Salve Regina."
Each graduate wore a stole fashioned in the school's colors and embroidered with the school cross. Various colored cords indicated those graduating with honors, membership in the National Honor Society or Academy of Liberal Arts, AP Capstone scholar or candidacy, Academy of Fine Arts distinction, Academy of Science distinction, Campus Life Student Leadership. The valedictorian and two salutatorians each wore red cords.
Dr. Galey Colosimo, JDCHS principal, gave the welcome for the celebration and invited "all in attendance to reflect on the values we share as a community" as he asked for a moment of silence to put themselves in the presence of God and reflect on the values of hope, faith and love.
Then Nikki Ward, associate superintendent of Utah Catholic Schools, offered the invocation.
In her salutatorian address, Aleaokalani Jane Pindat-Kahele said she and the other "lifers" at the Skaggs Catholic Center schools "have been coming to this campus almost daily for the past 12 years. But it was not until high school that this place became my second home."
The Juan Diego teachers see students as whole people, not just as students, and when she received her collage acceptance letter "the first people I wanted to tell were not my family or friends, but my favorite faculty members," Pindat-Kahele said. "Having Mr. Ulle tell me 'Alea, your GPA matters, but you matter more' was a turning point in my life because it helped me realize that the most important thing about me is me, not my grades. … Moving on from Juan Diego will be like losing a part of myself."
She thanked the classmates and faculty "who have made this place my home," as well as her parents, "especially my amazing mom, who has sacrificed so much for this school."
Corrinne C. Simao, also a salutatorian, used the movie "Zombieland" as an analogy because "This movie speaks to me on many levels," with its dark humor and because "it has an important message that has defined me as a person," she said.
The protagonist of the movie has a list of survival skills, she said, and "'Zombieland' has taught me to focus on Rule 32: Enjoy the little things."
Everyone in the JDCHS Class of 2023 has faced numerous challenges, and "While we have not been faced with a zombie bite, we all have faced hardships," Simao said, adding that while the movie is fictional, everyone has lived their personal apocalypse known as Covid.
"During our time here, we have learned that living our lives as zombies who do not feel, laugh or enjoy the little things is no way to live," she said.
Although in some ways the graduates "have been holding our breath for this moment" of graduation, it was time "to celebrate our accomplishments," she said.
Bea Therese Pascual offered the valedictorian address. She emphasized how the senior class had a unique high school experience.
"At the beginning of our freshman year, our heads were filled with thoughts about dances, typical high school drama, classes and extracurricular activities. But just when we were getting the hang of things, Covid-19 caused our school to move completely online," she said.
During their sophomore year, students were given the option to continue attending school online, or to return to campus, which meant lining up outside the doors every morning, standing on dots that were 6 feet apart, wearing face masks at all times, using hand sanitizer, and eating lunch behind plexi-glass screens, she recalled.
"Then junior year came," she said, and "All of a sudden, everything seemed so much more important – what classes we took, what grades we got, how well we performed in our extracurriculars. We were constantly reminded to start planning for the future, and it felt like everyone was watching us with new expectations."
In their junior year, Covid seemed to be less of a threat, she said, noting that the pandemic may have impacted the Class of 2023 but did not define them.
"We didn't just overcome the challenges that stood in our way, we absolutely destroyed them," Pascual said. "I mean, look at the amazing people we've all become. ... We may not know what the future holds but, hey, that's our 'normal.' Congratulations, Class of 2023, we finally made it."
Following the conferral of diplomas, the changing of the tassels was led by Jackson Thomas Shemwell, student body president, and by Eoghan T. Kelly, senior class president.
In his comments, Mark Longe, superintendent of Utah Catholic Schools, extended his congratulations to the JDCHS Class of 2023.
The Catholic education that they received provided a foundation to make the difference in the world, he said, adding, "You will be challenged in your values and beliefs in the years to come, but I believe that you are well prepared to meet these challenges. Always remember the Christian foundation in which you have been strengthened."
Class of 2023 at a glance
· 152 Graduates in the JDCHS Class of 2023
· $15.7 million in renewable four-year scholarships
· 16,790 Service Hours Served
For the 2022-2023 Academic Year:
· 37 AP Scholars
· 16 AP Scholars with Honor
· 21 AP Scholars with Distinction
· 2 National Merit Scholars
AWARDS
Saint Cecilia Award: Camelia Gloria Dias
Saint Sebastian Award: Malik James Harris
Saint Teresa of Avila Award: Simone Presley Nicolodemos
Saint Thomas Aquinas Award: Anthony Joseph Bolda
Our Lady of Guadalupe Award: Hugo and Paula Moreno
Saint Juan Diego Award: Lily Anne Edwards and Jacob Francisco Galang
Spiritus Donorum Honor: Charles Carrillo
St. Michael the Archangel Award: Ms. Michelle Moynihan
Christ the Teacher Award: Mr. Daniel Sontum
Saint Katherine Drexel Award: Elijah Thomas Earhart
Saint Christopher Award: Emmalyn Athea Jacobs
Amyntor Award: Eoghan T. Kelly
Saint Joseph Award: Matthew Joseph Chiazzese
Saint Francis of Assisi Award: Jackson Thomas Shemwell