Bishop Solis commemorates Rwandan genocide
Friday, Jun. 02, 2023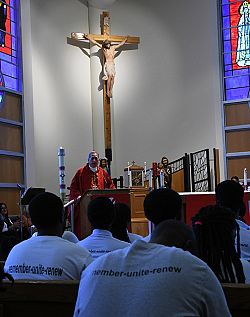 IC photo/Marie Mischel
+ Enlarge
TAYLORSVILLE —On the feast of Pentecost, Bishop Oscar A. Solis celebrated Mass at St. Martin de Porres Catholic Church in Taylorsville, a liturgy that also commemorated the 1994 Rwandan genocide.
Among those in the congregation were members of the parish's Rwandan community. Bishop Solis said he joined them in the pain and suffering brought about by the genocide, and in their grief as they remembered the loved ones they had lost, and also in their joy at being able to celebrate their freedom.
As he began his homily, the bishop asked one of the young men to come forward to show the T-shirt that many of the members of the Rwandan community were wearing; the back of the shirt read "Remember – Unite – Renew." The word "Kwibuka," which means remember, has been the theme of the international commemoration events since the beginning, and "Remember, Unite, Renew" has been the theme since 2014.
Tying together the words on the shirt with the Gospel readings for Pentecost, Bishop Solis asked those present to remember that when Jesus breathed on the disciples and gave them the Holy Spirit, "their hearts were inflamed by the love of God so strong that they were energized, filled with enthusiasm, and experienced the indomitable energy of the Holy Spirit in their lives."
"Remembering is what we do today" in commemorating the Rwandan genocide, the bishop said. The 100 days that saw an estimated 800,000 people killed in ethnic violence was "an unimaginable suffering," he said.
Still, the commemoration event also was a time to unite, the bishop said. "We are here today, my dear friends, not only to pray for the people of Rwanda but also for those members of our community, for the people who are suffering still the evils of genocide, of abortion, senseless killings and violence happening in our streets, continued war in places like Ukraine and Sudan and other parts of our world."
Many other acts of senseless violence occur against the dignity and sanctity of human life, he said. "The Peace of Pentecost calls us to unity, to unity as a global family that longs for one common home that God has created, reminding us not only of our unity as a family or a community but unity as children of God… ."
Similarly, at Pentecost "we come to renew our faith in a loving God who never fails to love us, to forgive us, and to care for us," the bishop said, adding that it was a day to "celebrate the gift of renewal of faith, of the renewal of our own lives, the renewal of humanity to become the people that God has chosen…."
The most important thing to remember about Pentecost, the bishop said, is that "When God gave us the gift of the Holy Spirit, he gave us the mission, the mission to love as God loves, to treat others with love and compassion as Jesus treated sinners, and most of all to learn to forgive and love your enemies. So, my dear friends, Pentecost is a moment and a call for the renewal of our faith, a renewal of our identity as God's family and as God's children, and a renewal of our mission to become the ambassadors of God's love, of God's peace and God's presence and forgiveness in our world that needs it."