Add a retreat to your Advent calendar
Friday, Nov. 11, 2022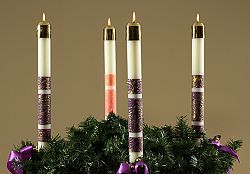 IC file photo
+ Enlarge
Diocesan Advent Retreats
All the faithful are encouraged to attend the Diocesan Advent Day of Reflection and Prayer, scheduled for Saturday, Dec. 3, at St. John the Baptist Catholic Church, 300 East 11800 South, Draper. The retreat will be held both in-person and livestream. There is no cost. To register for seating or to receive the YouTube link for the livestream, call the Office of Worship, 801-328-8641 ext. 357 or the Office of Hispanic Ministries, 801-328-8641 ext. 332.
English Session: 9-11 a.m. - "He Will Come: The Poetry of Advent" presented by Fr. Tristan Dillon, parochial vicar of St. George Parish
Spanish Session: 12:30 to 2:30 p.m. - "Advent: Eucharist and Expectation" presented by Fr. Dominic Sternhagen, pastor of St. Ann Parish
Women's Advent Retreat
Saturday, Dec. 10, 9 a.m. to 4 p.m. in the Kearns-St. Ann Catholic School cafeteria, 450 East 2100 South, Salt Lake City. Check-in and bagels at 8:30 a.m. Cost: $10; $15 at door. Mail payment to St. Ann Catholic Church, c/o Women's Retreat to the above address. For information or to register, contact Jeanne at jeanne828@yahoo.com or (801)580-2513, or Cecilia at cecilia.tonna@gmail.com
Advent Family Retreat (In Spanish)
Saturday, Dec. 3, 8 a.m. to 5 p.m. at St. George Catholic Church, 259 West 200 North, St. George. "Waiting for Jesus" ("En Espera de Jesús") will be presented by the Madres Misioneras de la Palabra. The retreat is free and open to all.