St. Olaf students experience real science in action
Friday, Jan. 26, 2007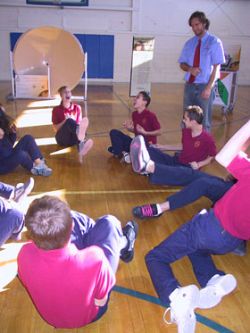 Intermountain Catholic
+ Enlarge
BOUNTIFUL — St. Olaf Middle School students experienced a traveling science center as an early Catholic Schools Week project Jan. 23-25.
Leonardo on Wheels (LOW) is a traveling science center that operates out of a 25-foot trailer. LOW includes 15 cart-mounted interactive science exhibits or activities, each on a particular theme or subject. The exhibits are focused on the middle school science curriculum. The first day students explored the traveling science center in an unstructured manner learning about and experiencing each exhibit. The second and third days, students were given a Leonardo notebook and took more of an experiment-minded approach. They received guided instruction, formed hypotheses, made measurements, collected data, experimented for results, and recorded their observations to see if they proved or disproved their hypotheses.
Tony Anderson is a LOW liberator instructor because he said he tries to liberate students from routine, sometimes dull, experiences in science, and tries to make it fun and exciting by allowing students to liberate their minds. He graduated from the University of Utah with a Bachelor of Science Degree in Geography.
Rodney Kopish is a LOW illuminator instructor. He said he illuminates young minds and frees them from the darkness of scientific ignorance and apathy. He tries to illuminate their passion for learning while having fun with science. Kopish was a biology teacher prior to LOW.
Anderson said LOW is an extension of the Leonardo at Library Square in Salt Lake City. Leonardo is the new name for the old public library in Salt Lake City. The traveling Leonardo was launched in 2004. LOW is part of the Utah Science Center at the Leonardo at Library Square.
Dr. Joe Andrade, director of the Utah Science Center component of Leonardo, said an earlier version of LOW was started in 1990. Andrade and three other not for profit organizations, who founded Leonardo, spoke with the Utah State Office of Education and discovered that what was needed was science curriculum targeted toward the middle school levels. The Leonardo will open as a science museum in 2009 at Library Square.
Anderson and Kopish present LOW to schools throughout Utah. They set up their exhibits and stay for three to five days at a time so the middle school science classes can experience the various exhibits. They also try to spark or generate ideas for science fair projects and additional independent study and research after LOW has left the school.
LOW provides teachers and students with hands on experience based on the Utah State Office of Education core science curriculum. It also helps students connect every-day items with the science and technology that make them work.
St. Olaf students examined Jim Haggart's finger under a microscope and were able to see what a potential cancer cell looks like. Haggart is the St. Olaf middle school science teacher. They also touched on some biology and genetics.
Anderson said one of this year's topics in the Utah State Legislature is energy efficiency so they brought in a generator bike. Students were given an opportunity to actually pump the generator bike to see how much power or energy is needed to pump enough electricity to turn on a 25 watt light bulb and a 100 watt light bulb. They learned to multiply their findings and apply them to how much energy is needed to light their homes or the school. The experiment helped them understand the energy concept and put it into a larger perspective. Students also realized florescent light bulbs consume less power than incandescent light bulbs.
The students also threw the dice on a craps table exhibit to experience the statistics of probabilities. The concept was to teach them we all live in a statistical and somewhat uncertain world, and that such uncertainty can be accepted, even celebrated, rather than solely feared.
The LOW exhibits offered St. Olaf students a first-hand experience rather than simply receiving a large amount of information through a lecture or text book.
For more information about Leonardo on Wheels, visit www.leonardo.org, or Utahsciencecenter.org.