Rosemarie (Rosie) Jimenez
Friday, Feb. 19, 2021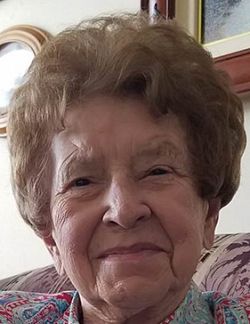 Courtesy photo
+ Enlarge
Rosemarie (Rosie) Jimenez
May 11, 1935 ~ February 10, 2021
Rosemarie "Rosie" Jimenez, our loving wife, mother, great- grandmother, sister, aunt and friend entered eternal life on February 10, 2021.
Rosie was born to Matilda and George Marushack on May 11, 1935 in Rock Springs, Wyoming. She was the darling of Rock Springs High School, where she was a cheerleader and member of student council, pep club and the National Thespian Society.
She earned her nursing degree from Holy Cross Hospital School of Nursing in 1956 and practiced as a registered nurse for 30 years. Her extensive career included positions as a surgical nurse at New York-Presbyterian Hospital and as a home health nurse for Community Nursing Service of Salt Lake. She retired as the director of the outpatient clinic at Shriners Hospital for Children in Salt Lake City. Although retired, Rosie never stopped nursing. She continually cared for her family, friends and neighbors. Even recently, she actively assumed a "nursing position," consoling her fellow residents and the staff at Sunrise of Sandy memory care unit.
Rosie won the heart of Lee Joseph Jimenez and they married in 1957. They shared a wonderful life together until Lee passed in 2011. Rosie and Lee moved across the nation, from Wyoming to Florida, New Jersey to Utah and numerous places in between. Along the way their family grew to include their four children, Paul (Siama), David (Alicia), Daniel (Secret) and Renee Justice.
Those who knew Rosie best remember her infectious laugh and silly, adorable personality. She has been described as one of the purest souls, nurturing, caring, kind and selfless. She is a friend to everyone and a role model of how to treat others. Rosie's giving spirit is carried on by her four children, seven grandchildren, three great-grandchildren, her sister, and extended family relations and friends from every walk of life.
The family extends their utmost appreciation and thanks to the many amazing caregivers and friends Rosie met at Sunrise of Sandy and Inspiration Hospice. Their special care and love for Rosie gave her family peace of mind.
Rosie was a long-time parishioner at St. Vincent de Paul Catholic Church, where a funeral Mass was celebrated on February 16, 2021. She was laid to rest in a private committal ceremony at Mount Calvary Catholic Cemetery. In lieu of flowers, please consider a donation to the Alzheimer's Association.