Regional wins for Catholic high school teams
Friday, Nov. 11, 2022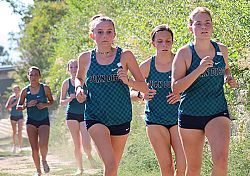 Courtesy photo
Photo 1 of 4
All three Utah Catholic high schools enjoyed region wins in various sports this season, while the Jayhawks put St. Joseph's girls soccer back on the map for the first time since becoming a 2A school, going 7-0 in regular season play, clinching the region title and advancing all the way to the final game of the state championship before being defeated.
Juan Diego CHS
Tennis
Several Soaring Eagle players made it to the state finals at Liberty Park on Sept. 29, but were defeated in the first round: first singles Jasmin Asmar, junior; second singles Nina Smith, senior; and first doubles Isabel Hopkins, sophomore, and Julie Holly, senior.
Cross Country
At the region championships Oct. 13 at Wheeler Farm, the Soaring Eagle took first in the boys 5000-meter with a score of 27. In that race, junior Curran Madden came in first with a time of 17:09:8. Patrick Reilly, a senior, was fourth (17:21.3). Junior Connor Orges followed at sixth (18:32:3) and Shepherd Foy, a sophomore, was seventh (18:34.2).
The girls team took second at region behind Judge Memorial with a score of 36. In the girls 5000-meter, junior Ethan Stevens crossed the finish line first (19:42:2) Allie Sloan, junior, was sixth (22:18.0), Maude Poirier also a junior was eighth (22:40.1) and Olivia Young, a junior, was 10th (22:58:7).
At the 2022 UHSAA State Cross Country Championships, held Oct. 25 at the Regional Athletic Complex in Salt Lake City, junior Oi Ling Stevens came in sixth in the 3A girls 5K with a time of 19:29.4.
Although Juan Diego did not have a strong finish at state, "we were beating teams all season," coach Joe Elliott said. The highlight of the year that showed Elliott how much the team improved was their participation at the Bob Firman Invitational at Eagle Island State Park in Idaho in September, where the Soaring Eagle boys placed second out of 45 teams, while the girls came in sixth out of 31 teams.
"There were a lot of really heartening signs throughout the season of how much better we've gotten in recent years," Elliott said.
Football
After coming in third in region 3-2, Juan Diego beat Union 38-35 on Oct. 21 in the first round of the state tournament at home. In the quarter finals on Oct. 28 at home they lost to Morgan 51-20. The Soaring Eagle finished the season 6-6 overall.
Volleyball
Juan Diego took first in region 8-0; last year the Soaring Eagle were co-region champions with the Bulldogs. This year they finished 20-10 overall. In state play the Soaring Eagle had a first-round bye, followed by an Oct. 28 defeat by South Summit 3-0. In consolation round they were defeated by Judge 3-2 at UVU.
Judge Memorial CHS
Tennis
At the state tournament at Liberty Park on Sept. 29, first singles player senior Rachelle Prosthofer beat Charlotte Poulsen of Richfield in the first round 6-1, 7-5. In the quarter finals she played Sophie Crosby of Grantsville, losing 6-0, 6-2. In second singles, Taeya Vacharothone, a junior, and third singles Grace Willmarth, sophomore, made it to state but were defeated in the first round of state play. First doubles players Avery Kaleel, a freshman, and Audrey Selfridge, a junior, defeated Rally Carver and Breanna Bailey of Ogden 6-3, 6-3 in the first round before losing to Rowland Hall 6-3, 6-3 in the quarter finals.
In second doubles, freshmen Sophie Valles and Emma Evensen beat their Union opponents 6-2, 6-2 in the first round. In the quarter finals they defeated a Juab duo 6-2, 6-0 and went on to the semifinals, where they lost to Rowland Hall 6-2, 6-1.
"Our second doubles had what we call the match of the year," said coach Tracey Valentine. "They were playing one doubles against Grantsville, the defending state champions from the previous year, and they took them to a full set before they lost to them," she said of an earlier-season match. "I had so many coaches come up to me after that match and during the season, saying 'We heard your girls pushed Grantsville to three sets; they must be really good.'"
"That was exciting; I'm not sure they knew how good they really were," she said of the duo making it to the semifinals. "It was an experience-gaining match for them. I think they did really well; the atmosphere was a circus. They got through it, and we'll build on it for the next years.
"We're a pretty deep team so we're looking forward to it," Valentine said of next season.
Cross Country
At the region championships Oct. 13 at Wheeler Farm, the Bulldogs took first place with a score of 35. In the girls 5000 meters, sophomore Corrine Higgins came in second (20:09.7), sophomore Ella Still was fourth (21:46.2), senior Myriam Cortez came in seventh (22:37.6) and freshman Scarlett Nunez Dorsch was ninth (22:55.8). At the state meet on Oct. 25 at the Regional Athletic Complex in Salt Lake City, Higgins came in fifth in the girls 5K in a field of 93 runners with a time of 19:26:0.
Volleyball
The Bulldogs took second in region, finishing 6-2. At state, they beat Providence Hall 3-0 in the first round at home on Oct. 22. Judge Memorial then lost to Ogden 3-0 Oct. 28 at UVU. In consolation play later that day, also at UVU, they beat Juan Diego 3-2. The following day in the consolation semis at UVU they lost to Canyon View 3-1. The Bulldogs finished the season 14-11 overall.
St. Joseph CHS
Cross Country
The Jayhawks girls team took second place in region behind APA-WV in 5k racing on Oct. 11 at Wheeler Farm, with a score of 38. Junior Caroline Mullin finished sixth with a time of 24:11. In that race St. Joseph runners filled the 10th to 14th slots: Lexi Willardsen, sophomore (24:50); Sammy Russo, freshman (24:51), Lucia Hernandez, junior (24:55); Julie Rickerd, junior, (25:14) and Katelyn Martinez, sophomore (25:15). In the boys race, sophomore Jack Brooks took ninth place with a time of 19:59 while sophomore Dalton Rorabaugh came in 11th (20:050).
While St. Joseph's runners did not individually place in the top 10 at state, they put in a good performance, coach Alex Shaw said. Several key runners were unable to compete because they had PSAT testing that day, so the younger runners "really stepped up," she said. St. Joseph girls finished the day in ninth place; the boys' team did not place.
Golf
At the 2A state championship Oct. 5-6 at Mountain View Golf Course, the Jayhawks finished sixth with a total of +97 (673 strokes). Freshman Gavin Wolf came in eighth overall (+13/157 strokes).
Girls Soccer
The Jayhawks made it to the state 2A final game before being defeated 2-1 by the Rowland Hall Winged Lions (see story in the Oct. 4 Intermountain Catholic).
Volleyball
St. Joseph's defeated American Prep WV 3-0 in the first round of state play at home on Oct. 22. In the second round on Oct. 28 at Sevier Valley Center, they lost to Duchesne 3-0. In the Oct. 28 consolation game against Draper APA, also at Sevier Valley Center, the Jayhawks lost 3-2. The Jayhawks took third in region, 6-4, and finished the season 16-12 overall.