Prepare for Christmas at Advent day of reflection
Friday, Nov. 25, 2022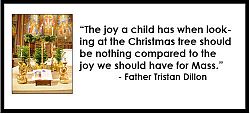 IC file photo
+ Enlarge
SALT LAKE CITY — This year's Diocesan Advent Day of Reflection and Prayer will take place on Dec. 3. All the faithful in the diocese are encouraged to attend in person at Saint John the Baptist Catholic Church in Draper or to view the livestream.
The English session, "He Will Come: The Poetry of Advent," will be presented by Father Tristan Dillon, parochial vicar of St. George Parish, who took the title of his presentation from a line of a poem by Rowan Williams, the former Archbishop of Canterbury.
"The poem is both theologically dense and absolutely beautiful," Fr. Dillon said. "It never fails to put me in the Advent spirit, filling me with the sense of waiting for and wonder of our Savior's birth."
Searching for inspiration for his presentation, he turned to his love for poetry because it "helps us grasp greater concepts, feelings and moods using simple ordinary language," he said.
To fully appreciate Christmas, a person must first get into the spirit of Advent, and the diocesan retreat will help set the mood, he said.
"I'm hoping that as we pray through poetry, we will grow deeper in our excitement for Christmas Day. ... Christ is coming at Christmas, but he will also come again. Advent is a beautiful season where we prepare for both," he said.
The excitement and anticipation for Christmas should be also the way that people approach the Mass, he said.
"Just as we eagerly await the birth of Christ and we anticipate his second coming, we should also be eager to receive him in the Eucharist. The joy a child has when looking at the Christmas tree should be nothing compared to the joy we should have for Mass," he said.
Inviting all to attend the Diocesan Advent Day of Reflection and Prayer, Fr. Dillon said it will be an opportunity for "the good people of Utah to enjoy some amazing poetry with me. We will read through 'Advent Calendar,' plus 'The Cultivation of Christmas Trees' by T.S. Eliot, 'Nativity' by John Donne, and a few more," he said.
Following a short break, Father Dominic Sternhagen, pastor of St. Ann Parish, will present the Spanish session of the retreat. His theme will be "Advent: Eucharist and Expectation."
WHAT: Diocesan Advent Day of Reflection and Prayer
WHEN: Saturday, Dec. 3
English Session: 9-11 a.m.
Spanish Session: 12:30- 2:30 p.m.
WHERE: St. John the Baptist Parish, 11800 South 300 East, Draper and livestreamed
Free; all the faithful are invited. Call the Office of Worship, 801-328-8641 ext. 357 or the Office of Hispanic Ministries, 801-328-8641 ext. 332 to register for seating or to receive the YouTube link for the livestream.