Patricia Dodson
Friday, Sep. 06, 2019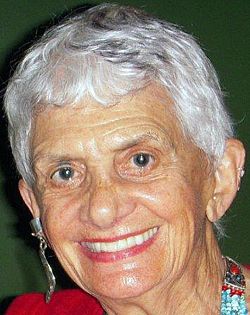 Courtesy photo
+ Enlarge
1925 ~ 2019
Patricia Isabel Ungaro Dodson, of Chicago, Illinois, 94, died August 4, 2019 in Salt Lake City of natural causes. She was born January 6, 1925 in Chicago to Dorothy Tyrrell Ungaro and Gerard Magella Ungaro.
Patricia was educated at New Trier High School, Vassar College (BA in Chemistry 1944-45), Northwestern University (MBA 1967), and University of Illinois (MA in Anthropology 1982). She married Leonard William Dodson in 1947 and had five daughters. She worked as a cosmetic and research chemist, homemaker, financial planner, options exchange trader and anthropologist.
In her community, Patricia was known as an ardent feminist. She was politically active in get-out-the-vote campaigns and many causes for change, including Citizens Alert, the YWCA Women's Shelter, the Michigan Womyn's Music Festival and the 60-mile Breast Cancer Walk. She was an extensive world traveler and never stopped exercising, including yoga, tennis, racquet ball and swimming.
She is survived by her daughters Daryl Dodson Wilson (Wally), Karen Dodson (Susan), Dee McLaughlin (Tom), Lindsey Dodson, Leslie Dodson (Dan); her grandchildren Connery Obeng (Pash), Reuben Wilson, Ryan McLaughlin (Emily), Ainsley-Marie McLaughlin; her great-grandchildren Amelle and Mayfield Obeng; and many beloved cousins.
She was preceded in death by her parents Dorothy and Jerry Ungaro, her sister Joan Ungaro and her husband, Leonard Dodson.
A funeral Mass will be celebrated Saturday, September 7 at St. Paul of the Cross Catholic Church in Park Ridge, Illinois.
In lieu of flowers, donations may be made to the Girl Scouts of America, a woman's organization or a charity of your choice.