Panelists: range of vocations available to young people
Wednesday, Jan. 30, 2019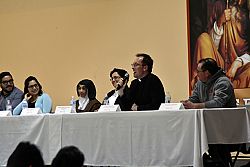 IC photo/Marie Mischel
+ Enlarge
OREM — Married or single, ordained or consecrated, all Catholics young and old are called to holiness. This universal call to holiness, brought out in the Vatican II document Lumen Gentium, has been affirmed by the last three popes. It also is highlighted in the Diocese of Salt Lake City's Pastoral Plan, which was published last year.
The first goal under the vocations section of the Pastoral Plan is "Invite all the people of God to discern their shared call to missionary discipleship."
In keeping with this, St. Francis of Assisi Parish hosted a Vocations Night Jan. 24. Speakers included not only a priest and two religious women, but also a married couple and a single person. The evening was geared toward students Confirmation age and older.
The parish has held similar events in the past, but this was the first time they emphasized the universal call to holiness, said Julie Boerio-Goates, the parish's pastoral coordinator.
Addressing the young people gathered, she said the evening was meant to "provide you with an opportunity to grow a little bit in your understanding of who you are, but also to grow in an understanding of what God might be calling you to be: What vocation might he have in mind for you?"
Speaking in turn, each person on the panel shared his or her story.
"We want you to know how different their stories can be and how God is calling each one of them in different ways, just as he is calling each of you in different ways," Boerio-Goates said.
Compressing a vocation call into a few minutes is difficult "because it's a never-ending story – it's something that you continue every single day of your life," said Ricardo Ramos, who with his wife, Gabriela Morales, spoke about the vocation of marriage.
As a teenager, Ramos thought he was being called to the priesthood. He spent nine years in the seminary, but felt something was missing. After much prayer and discernment, he left the seminary and moved to Utah and, when Morales asked him, he became involved with the parish youth group.
Friendship grew between Morales and him. After a couple of years, Ramos picked her up at the airport when she returned from a trip. As he saw her coming down the stairs, he knew the Lord was calling him to a vocation of marriage with her, he said.
After about a year of dating, the couple married in August.
Like her husband, Morales originally thought she might be called to a religious life. A deacon at a young adult retreat asked if she had ever considered entering the vowed religious life, and that planted a seed in her heart, she said, so she investigated several religious orders.
"It's not really something that really called me, but I still gave myself the opportunity to go and see, to go and explore that possibility," she said.
When she and Ramos began dating, "everything just felt so right," she said; when he proposed she didn't even have to think about her answer, she said.
Morales encouraged the young people gathered in the gym to ask questions "and to not be afraid to search. … It's going to take some time, but just persevere."
Discalced Carmelite Mother Therese Bui, who immigrated from Vietnam in 1993 at the age of 17, explained that she entered the monastery in Salt Lake City shortly after graduating from the University of Utah.
"It's been the most blessed, peaceful 20 years of my life, and if I had to do it again, I would do it again," she said.
The nuns' vocation is to pray for the world, especially for the Church and the people of the diocese, she said. "It is a life of love, of prayer, of sacrifices, of sufferings, but it is the kind of suffering that you know why you suffer. You suffer for souls, you suffer for the Church, with love."
In comparison to the cloistered life of the Carmelites is the active ministry of the Congregation of the Sisters of the Holy Cross, who were represented by Sr. Veronica Fajardo.
Sr. Veronica, a native of Nicaragua, came to the United States at the age of 8. In college, she dated a man but felt that she was called to something else. She became a teacher and began investigating religious orders.
Like Mother Therese, Sr. Veronica has taken the vows of poverty, chastity and obedience, but "we express our vows in different ways," she said. Although she lives in a convent and prays with her sisters, "a lot of what we do is spend time outside of our convent, working with people."
Originally a teacher, Sr. Veronica began to work with the immigrant population, and now works as a therapist with survivors of domestic violence.
Fr. Joseph Delka, parochial vicar of the Cathedral of the Madeleine and director of the diocesan office of Vocations to Priesthood, grew up in Utah in a non-denominational Christian family. He studied biochemistry at Utah State University, and while there went through RCIA. He was welcomed into the Church in 2007. Then one night the priest in charge of the Newman Center pulled him aside and to his surprise told him he might have a call to the priesthood.
"This was just not a part of my plan for my life," Fr. Delka said. However, he began to ask God what he should do. After graduating, he entered the seminary and was ordained a priest in 2015.
The call to the priesthood was unexpected, he said, "but I am so grateful for it. … When God offers something to you, I encourage you to take it. Don't be afraid. It's amazing what he can do with your life."
Fidencio Sanchez has been active in the parish for 22 years. He was an altar boy growing up and considered becoming a priest – something he thinks may yet be a possibility – but for now, "I help wherever I can," he said.
Speaking to the young people as another single person, he said, "being single doesn't mean you can do whatever you want. … Being single means … doing the work that God calls you to do. We've got this vocation of being single. Some day like Father [Delka] you might be a priest. Some day you might be married. Some day you might be sisters, but while we get to that point, all I can say is, do it with love."
Hearing about the variety of vocations was helpful, said some of the young people who attended the event.
Many young people are confused about their purpose in the Church, particularly because there is a conflict between the views of society and the Church, said Kelly Delara, who with Patricia Aguayo is a co-leader of the parish's young people's group. Therefore, hearing about the different choices for a vocation was important, she said.
"It's OK if you don't get married; it's OK if you don't want to be a sister. Just be open and listen to what God has to tell you and he will guide you … to your correct path. You just have to be patient," she said.
For Daniel Martinez, a St. Therese of the Child Jesus parishioner, the evening gave him the opportunity to talk with Fr. Delka about his own vocation. A high school senior, Martinez thinks he may have a calling to the priesthood, and he asked Fr. Delka for advice.