Looking back at Archbishop Niederauer's wit and defense of the Church as expressed in letters to the editor
Friday, Jun. 16, 2017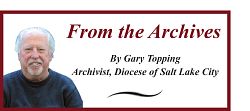 Photo 1 of 2
As we continue to mourn the passing last month of our beloved former bishop and Archbishop emeritus of San Francisco George H. Niederauer, who died May 2, our thoughts naturally go back to those things we most admired about him. While I appreciated his quick sense of humor, his intelligence and his wonderful homilies, I particularly loved his letters to the editor. An avid newspaper reader, he had a better than 20/20 eye for attacks, slights or misrepresentations of Catholicism and the Church, and his responses were immediate and sometimes even sarcastic. I've selected a few of my favorites for you here.
Responding to an opinion piece in The Salt Lake Tribune from Ms. Pat Rusk, president of the Utah Education Association, alleging that "private schools are not held by law to the same requirements as public schools, [insinuating] that private schools fail to meet those requirements," Archbishop Niederauer says, "Catholics operate quality schools because we believe in our vision of education, not in order to compete with other schools. However, now that the subject has come up, I know of no stampede from private schools into public schools. No competition, Ms. Rusk? To borrow your phrase, 'Come on!'"
Noting a simplistic critique of Catholicism in the Tribune, Archbishop Niederauer says, "I realize that simple sentences and snappy headlines sell newspapers. Still, it would be better for religion coverage to venture occasionally beyond the three-foot end of the pool."
Responding to a person who objected to Pope John Paul II promoting clerical celibacy, Archbishop Niederauer says, "Because the dead cannot defend themselves, let me point out that if one wishes to 'respectfully disagree' with recruiting people to a life of celibacy, he or she will have to respectfully disagree with Jesus Christ as well, who taught about Christian marriage and Christian celibacy in Matthew's Gospel (Mt 19: 1-12)."
Noting what he regarded as an "insulting and offensive" tone in an editorial about Hispanic Utahns, Archbishop Niederauer speculates that "It is likely that several years from now some local writer will review the struggle of immigrants in our community at the turn of this century, and will cite your remarks as evidence of the spitefulness these newcomers sometimes faced. Your only protection then will be what shields you now: your anonymity."
Responding to one Brian Anderson, who accused the U.S. Catholic Bishops of not being hard enough on crime, Archbishop Niederauer says, "It's a novel experience for Catholics to be denounced for not taking sin seriously. Most of our fellow citizens know that we believe people are responsible for their actions before God and before their sisters and brothers. However, Catholics are guilty of believing in conversion of heart, forgiveness and reconciliation. Such an attitude displeases Anderson, just as our Founder's refusing to cast the first stone at the sinful woman displeased the Pharisees of his day."
Commenting on the Tribune's "continuing romance with physician-assisted suicide," Archbishop Niederauer says "The editors derided Congress for banning [the practice], partly in response to Oregon's law permitting [it]. Congress, we were told, shouldn't act like a nanny. Instead, it should put 'faith in the ability of the states and their peoples to make decisions for themselves.' I didn't live in Utah in 1964-65, but I'm guessing that the Tribune didn't criticize Congress then for passing the Civil Rights Act and related legislation. The paper probably didn't reason that southern states should be left alone 'to make decisions for themselves' about how to treat their African-American citizens. Today many of us believe that the dignity and value of each human life rank right up there with civil rights as legitimate concerns of the federal government."
To Time Magazine, the archbishop wrote "Your piece on Charles Darwin sounded silly instead of significant. After reporting that Darwin didn't want to murder God, Time intoned: 'But he did.' If God were in the habit of quoting Mark Twain, he could claim that your report of his demise was greatly exaggerated."
May you rest in peace, Archbishop Niederauer! We remember you with great fondness.