Join us in praying to end abortion
Friday, Jan. 20, 2023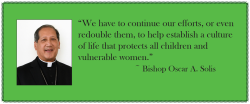 + Enlarge
Every year, the United States Conference of Catholic Bishops Pro-Life Secretariat sponsors the National Prayer Vigil for Life, which is held on the eve of the March for Life each January. The prayer vigil marks the date of the 1973 decision of the U.S. Supreme Court in Roe v. Wade that legalized and normalized abortion and the taking of innocent human life all over our country for almost half a century.
Even after last year's historic Supreme Court decision Dobbs v. Jackson Women's Health Organization overturned the tragic Roe v. Wade and allowed states to enact legislative policies to protect preborn children and their mothers, there remains a great need for prayer and advocacy against efforts to legalize abortion at state and federal levels. We have to continue our efforts, or even redouble them, to help establish a culture of life that protects all children and vulnerable women.
The USCCB encourages all Catholics to participate in the nationwide prayer vigil on Jan. 19-20. On this occasion, thousands of pilgrims from across the nation gather at the Basilica of the National Shrine of the Immaculate Conception in Washington, D.C. to pray for an end to abortion and a greater respect for all human life, and even if we cannot be there in person we can join them in prayer.
In unity and solidarity with the initiative of the USCCB, our diocese will celebrate the "Holy Mass for the Unborn and Protection for Children" at the Cathedral of the Madeleine on Friday, Jan. 20, at 6 p.m. I invite all the faithful from our parishes and schools to join all Catholics nationwide to pray for the protection of all children and their mothers, especially the unborn who have been deprived of life.