Interfaith Month events include tours, concerts
Friday, Feb. 16, 2018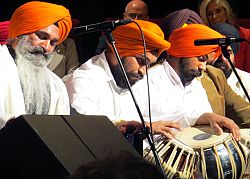 Intermountain Catholic
+ Enlarge
SALT LAKE CITY — Interfaith Month is in full swing across the Salt Lake Valley. While in previous years there have been many events, this year the Salt Lake Interfaith Roundtable board decided to narrow the focus and consolidate events to concentrate on the theme "Generosity of Faith."
One of the month's highlights is the Generosity of Faith Fair, to be held Monday, Feb. 19 from 4 to 7 p.m. at the Center for Spiritual Living, 332 Bugatti Ave. in South Salt Lake. It will be preceded at 4 p.m. by a Generosity of the Community panel discussion. Along with Jewish and Muslim representatives and those from The Church of Jesus Christ of Latter-day Saints, Dennis Kelsch of Catholic Community Services will represent the Catholic Diocese of Salt Lake City in discussing the different faith communities and their contributions to the greater community.
At the Generosity of Faith Fair, 15 different faith communities will share their faith traditions, scriptures, readings, heroes and why they serve those in need. Attendees are asked to bring non-perishable food items to support the Cathedral of St. Mark Hildegard's food pantry.
"It's going to be really fun," said Interfaith Month Committee Chair Janet Healey, who encourages local Catholics to attend with their families. "We're hoping the community will come out and learn about other faith groups and the work they're giving to the community."
Healey, the director of community and volunteer relations at Catholic Community Services of Utah, has been a member of the Interfaith Roundtable for several years. She initially got involved to make connections with other faith groups and to see what projects or volunteer opportunities they could do together, but her experience has been much richer than she expected, she said.
"I really think Interfaith Month is an opportunity to educate yourself and to learn about other faith groups and the similarities we have with each other," she said. "We share so many common goals."
Other upcoming events follow. All are free and open to the public.
– Open house: the Sri Ganesha Hindu Temple, 1142 W. South Jordan Parkway in South Jordan. Thursday, Feb. 22, from 6 to 8 p.m.
– Generosity Of Service project: Individuals and families can assemble hygiene kits, cleaning kits or school kits to assist the United Methodist Committee On Relief with their ongoing humanitarian relief projects. (Participants are asked to wear closed-toed shoes.) Friday, Feb. 23, in two sessions, 9 a.m. to noon and 1 to 4 p.m. at 1479 South 700 West, Salt Lake City.
– 2018 Heritage Musical: The Calvary Music Ministry in Concert will present the "Hold Up the Light" on Sunday, Feb. 25, 5 p.m. at Calvary Baptist Church, 1090 S. State St., Salt Lake City.
– Guided bus tour: Visit the Chabad Lubavitch of Utah synagogue and the Islamic Bosnian mosque. Tuesday, Feb. 27, 6:30 p.m. Parking is available at the synagogue, 1760 South 1100 East, Salt Lake City. Reservations required; email wendyjstovall@gmail.com or call 801-967 -8013.
The culminating event of the interfaith celebration, a Sacred Music Evening, will be held at The Church of Jesus Christ of Latter-day Saints Tabernacle on Temple Square on Sunday, March 18. Doors open at 5 p.m., concert starts at 6 p.m. The evening will include musical performances, scriptural readings and prayers from 11 Utah faith traditions, including the Utah Pipe Band, recitals of poetry from various traditions, different dance groups, the Lux Singers, an LDS Gospel Choir with Debra and Harry Bonner and a sing-along of "Let There Be Peace on Earth." Free tickets for the event are available online or by calling 801-570-0080 or toll-free 1-866-537-6457.
"All of these events are a wonderful opportunity for the family," Healey said. "Through them we can learn to respect each other and our individual beliefs even though they may be different."