Fr. Gally Gregory: "A good shepherd with great devotion and fidelity"
Friday, Nov. 11, 2022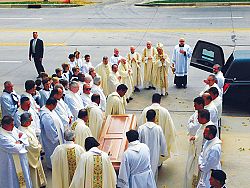 IC photo/Laura Vallejo
+ Enlarge
SALT LAKE CITY — A Mass of Christian Burial for Father Lourduraj Gally Gregory was celebrated Nov. 4 at the Cathedral of the Madeleine, with Bishop Oscar A. Solis presiding. Concelebrating were several diocesan priests as well as Father Christopher Mathichetty, Fr. Gally's cousin, who came from India to represent the family.
Fr. Gally, 64, died unexpectedly on Oct. 13, at Immaculate Conception Parish in Copperton, where he was serving as pastor. The cause of death was heart disease, according to his obituary.
At the vigil service the night before the funeral Mass, Fr. Paulraj Rayappa, a friend and seminary classmate of Fr. Gally who is now a chaplain for the diocese, said that Fr. Gally was a faithful and dedicated priest.
"The people present here represent just a small fraction of those who were impacted by him," Fr. Rayappa said.
"It's a sign of several things: of how much Fr. Gally was loved by so many; of how many people he reached, helped, fed and healed as a priest of Jesus Christ in his service," he said, adding that Fr. Gally "was consistent as a joyful, faith-filled, hopeful, dedicated priest. He never experienced depression or despair," Fr. Rayappa said.
He concluded by saying that Fr. Gally loved the Blessed Mother, "along with his earthly mother, who is still alive, and she was a source of great strength and help to him throughout his entire life."
In his homily at the funeral Mass, Bishop Solis said the sudden death of Fr. Gally left him shocked, and made him remember his last visit with the priest.
"He told me how grateful he was to be a part of our diocese; he felt happy and proud of his assignment," Bishop Solis said, adding that Fr. Gally found joy in serving the people of God in Copperton as well as the elderly and the sick at Saint Joseph Villa, where he served as chaplain. Fr. Gally also was chaplain for the Carmelite nuns.
"The death of a priest, like the death of any human person, it is a great loss, a big loss to his family, to our priesthood fraternity, to our diocese, and to the Christian communities he had served. … For a bishop, I lost a son," Bishop Solis said, asking the faithful present at the cathedral to keep Fr. Gally's family in their prayers.
Only a few days prior to his death Fr. Gally was actively exercising his ministry as "a good shepherd with great devotion and fidelity," the bishop said. "Nothing happens by accident with God. … We might not understand why, but we believe it is a part of his divine plan."
Bishop Solis said that through the Scriptures of the day, Isaiah 43:1-7, Romans 8:28-35, 37-39 and John 6:37-40, "God offers us time for consolation and grief, giving us peace, hope and strength in the midst of the darkness that faith brings."
Bishop Solis asked the congregation to keep and hold onto the memories that each one had of Fr. Gally.
"As we say, 'Fr. Gally, goodbye for now,' we entrust his soul to the hands of God with trust in his mercy that we shall see each other again in heaven," Bishop Solis concluded.
Among those attending the Mass was Maria Uchunga, a parishioner of Our Lady of Lourdes Parish in Magna, where Fr. Gally served first as administrator, then as pastor, from 2016 to 2021.
"This is a great loss," Uchunga said with tears in her eyes. "I will always remember him for all his interest in our different cultures. … He always had open arms to receive me in my times of need. ... He will be dearly missed."