Film series to focus on Catholic Social Teaching
Friday, Sep. 06, 2019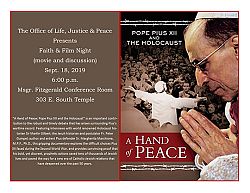 Courtesy photo
+ Enlarge
SALT CITY — Among the fruits of the recent national Roundtable Association of Catholic Diocesan Social Action Directors Social Action Summer Institute hosted by the Diocese of Salt Lake City is an upcoming Faith and Film Night sponsored by the diocesan Office of Life, Justice and Peace.
"During the Social Action Summer Institute, I talked with some colleagues from across the nation who use film to help spur deeper discussions about Catholic Social Teaching," said Jean Hill, director of the Office of Life, Justice and Peace. "Film is very accessible for most people, and a skilled director and cast are able to bring out the emotions and portray the impacts of larger concepts on real people in a way that opens viewers to empathy for others."
For example, as witness to the power of film, a documentary about a juror in a death penalty case had such an impact on people that Hill knew putting on a Faith and Film night in the diocese was the correct choice, she said.
The film series is one of a couple of ways Hill hopes "to continue faith formation on Catholic Social Teaching in the diocese to help those with a passion for building the kingdom of God on Earth find new paths for doing so," she said.
The film series, which will start on Sept. 18, will run every other month until March on the following dates: Nov. 13, Jan. 15 and March 18. All showings will be at 6 p.m. in the diocesan Chancery building in Salt Lake City.
The first film in the series will be "A Hand of Peace: Pope Pius XII and the Holocaust."
"This film is an important contribution to the robust and timely debate that has arisen surrounding Pius' wartime record," according to the film invitation.
The documentary features interviews with Sir Martin Gilber, a renowned Holocaust historian, and Sister Margherita Marchione M.P.F., Ph. D., a scholar specializing in Pope Pius XII.
"This gripping documentary explores the difficult choices that Pius XII faced during the Second World War and provides convincing proof that his bold, yet discrete prophetic actions saved tens of thousands of Jewish lives and paved the way for a new era of Catholic-Jewish relations that have been deepened over the past 50 years," states the invitation to see the film.