European experience hones choir school studies
Friday, Jan. 26, 2007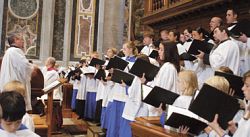 Intermountain Catholic
+ Enlarge
SALT LAKE CITY — Yvette and Lloyd Tani were hooked on the idea of taking their children to Germany and Austria several years ago. After returning from another European trip, this time to Italy, they can't wait to go again – all under the banner of the Madeleine Choir School.
Founded in 1996, the Madeleine Choir School in Salt Lake City has always held a "normal" curriculum in high regard; mathematics, reading, science, and sports have been a part of the program from its inception. But what has always distinguished it as unique was its extensive musical program. Now in its 11th year, it is still the only coeducational choir school in the United States.
In November, the choir school went on pilgrimage to Italy and sang in Rome and Assisi, among other cities.
"The teachers had really prepared each of the students," said Yvette Tani, "so they received a thorough exposure to a lot of history and a lot of art. It's not just a music tour. This kind of learning experience won't be found in a book."
Tani's son, Ryan, was invited to proclaim the psalm at Mass at the Vatican's St. Peter's Basilica. According to the staff of the Basilica, a child had not been asked to cantor the responsorial psalm in at least 30 years.
"It was an incredible opportunity, an great honor to be asked to sing the psalm at St. Peter's. It will be something that he will always remember," said Tani.
"As a pilgrimage, the tour offers us the ability to celebrate the Eucharist in some of the most revered churches in our Catholic history," said Gregory Glenn, director of the Madeleine Choir School. "St. Peter's Basilica, St. John Lateran Basilica (Rome's Cathedral), the Basilica of St. Francis in Assisi, and more. We see and worship in these places dedicated to the memory of courageous men and women who have followed Christ in spite of great odds and opposition.
"For a young person in Salt Lake City, it may be sometimes difficult to understand the depth and immensity of the Catholic Church throughout the world: this pilgrimage certainly opens their eyes and sparks in them a renewed commitment to following Christ in the Catholic Church," he said.
According to Glenn, the experience of the tour offers an opportunity to hone the choir's stamina and technique. Also, it increases the exposure not just of the Madeleine Choir School to the world, but the world to the Madeleine Choir School.
"Hearing Pope Benedict welcome us by name from his balcony overlooking a crowded St. Peter's Square may have been perplexing to the other pilgrims gathered, but it was a tremendous joy for us. A woman from Australia recently e-mailed us requesting a CD because she happened to attend a concert performance in Assisi," said Glenn.