Diocese's director of Office of Life, Justice and Peace departs for advocacy job with county
Friday, Nov. 11, 2022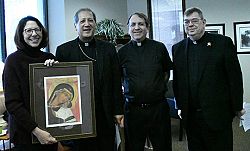 IC photo/Marie Mischel
+ Enlarge
SALT LAKE CITY — Jean Welch Hill, who has served as director of the Diocese of Salt Lake City Office of Life, Justice and Peace for 11 years, was honored by the diocese in a staff farewell reception at the chancery building on Nov. 2. Hill has accepted a position at Salt Lake County as director of the Criminal Justice Advisory Council.
At the celebration, Monsignor Colin F. Bircumshaw, vicar general, praised Hill's many accomplishments, saying she has been a wonderful spokesperson for the diocese and a passionate advocate for those who do not have a voice.
"Jean, in her role, she doesn't just do this job; she has a passion for what she does" as an advocate for all peace and justice issues and sanctity of life issues, he said.
It will be difficult to find someone to follow Hill who, along with being a representative for the diocese, has been a strong example of a female leader in the Church, Msgr. Bircumshaw said. "Jean has done it by simply doing it, being a woman of great talent who stepped forward and spoke for the vision of the Gospel in ways that challenged all of us."
At the reception, Monsignor Msgr. J. Terrence Fitzgerald, vicar general emeritus, who has known Hill's family for many years, commended Hill for her thick skin in dealing with those who disagreed with the positions she advocated for over the years.
"You know, no matter how bad things are, no matter how terrible people treated her in response to her stance on social justice, she could always last and take it in stride," he said. "Jean really has been a remarkable presence and especially as a spokesperson."
Bishop Oscar A. Solis expressed appreciation for Hill's role as spokesperson for the diocese and said he would miss her help in crafting some of his messages. Hill has also been a mentor for him in the area of social justice, he said. "When I came to Utah, I met a mentor who continuously molded me in order to be the face of Christ that people see, especially to those who are considered the last and the least in our society."
"We'll pray for you, knowing that you're in the right place; your heart is right there," he told Hill. "And I know that the community in Salt Lake City will benefit from your presence and your ministry to our brothers and sisters, to the poor."
Father Kenneth Vialpando, vicar for clergy, roasted Hill with lawyer jokes before enumerating many of the awards Hill has received during her time at the diocese. These include multiple awards from national and state journalism organizations for the columns she wrote for this newspaper.
Hill also was the recipient of Catholic Community Services' 2021 Humanitarian of the Year for her work in advocating for immigrants, the poor, inmates and other vulnerable populations.
At the end of the reception Hill thanked everyone in attendance for their support and friendship. Acknowledging the CCS award, she said that "it is that passion for working with homelessness and criminal justice issues that has led me out of the diocese, but I will definitely always be Catholic.
"So, I will always be around. And you'll probably say, 'Why is she here again?'" she joked.
Hill, who has a law degree from the University of Utah, previously worked as an attorney for the state Department of Education. Prior to that, she taught at Judge Memorial Catholic High School for three years. Hill and her family are parishioners at St. Vincent de Paul Catholic Church in Holladay.