Diocese of Salt Lake City Supports 2017 World Refugee Day
Friday, Jun. 16, 2017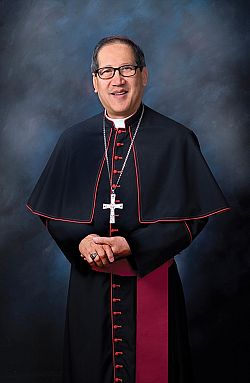 Intermountain Catholic
Photo 1 of 2
The United Nations first declared a World Refugee Day on June 20, 2000 to celebrate the remarkable ability of millions of people worldwide who make new lives far from the comforts and familiarity of home. We look forward to celebrating the 17th World Refugee Day this June 20 with our refugee brothers and sisters in Utah, but also lament the reality that millions of people are still forced into makeshift camps or other resettlement programs by violence, environmental disasters, religious persecution and political instability.
With roughly 60,000 refugees living in Utah, many of our parishes are very familiar with the resiliency of people forced from their homes and now living thousands of miles away from their native countries and cultures. Parishes have joined the Refugee Resettlement Program under Catholic Community Services of Utah (CCS) to help welcome the stranger – giving comfort to newly arrived families who arrive at the Salt Lake City International Airport after long journeys to find welcoming bands of Catholics ready to meet, greet and help them navigate this often-baffling new world.
Utah parishes engaged in the CCS program bring to life Pope Francis' belief that "A better world will come about only if attention is first paid to individuals; if human promotion is integral, taking account of every dimension of the person, including the spiritual; if no one is neglected, including the poor, the sick, prisoners, the needy and the stranger (cf. Mt 25:31-46); if we can prove capable of leaving behind a throwaway culture and embracing one of encounter and acceptance."
Nationally, Catholic Relief Services (the global humanitarian aid agency of the U.S. Conference of Catholic Bishops) has provided assistance to 1.25 million Syrian refugees alone – refugees such as the five members of the Basheer family, who lived in a tent in Aleppo, listening to bombs drop night and day for more than a year until the parents with their three children were moved to a refugee camp in Serbia.
It is these types of refugee experiences that Pope Francis refers to when he says, "Migrants and refugees are not pawns on the chessboard of humanity. They are children, women and men who leave or who are forced to leave their homes for various reasons, who share a legitimate desire for knowing and having, but above all for being more."
Refugees come to Utah after having suffered persecution and extreme hardship. Because of their ethnicity, race, gender or religious affiliation, they have been forced to abandon their homes and country. Seeking asylum, many arrive in the United States with only the clothes on their backs and the dream of a better life. By welcoming them into our community, by helping them learn to speak English and adjust to their new environment, we make their dream possible.
We continue to help refugee families realize their goals of "Being more" through our local resettlement efforts at CCS and support for CRS. We must also engage in advocacy and other actions that will help alleviate the factors that create refugee flows in the first place.
For us at Catholic Community Services of Utah, extending a warm welcome to our refugees is extremely important, and we ask that you join us in this ministry. As we care for these strangers in our midst, our own lives are often enriched. Please know how grateful I am that you are considering serving as a volunteer in our Refugee Resettlement Program.
Our Holy Father Pope Francis challenges all of us to build bridges and to accompany the most vulnerable on life's journey. Saint Mark teaches us to love our neighbors as ourselves (Mk. 12:31) and Saint Matthew tells us: Whatever you did for one of these least brothers of mine, you did for me. (Mt. 25:40) Indeed, Jesus reminds us that we encounter him in every person we meet and that by serving the least among us we are serving him.
Thank you for joining us as we reach out to welcome the refugees, the strangers who are our sisters and brothers. May God bless us for our generous hearts.