Diocese celebrates Mass for the Unborn
Friday, Jan. 25, 2019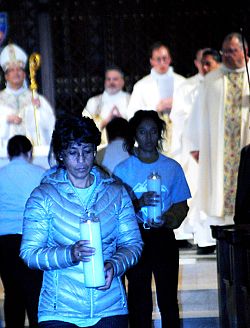 IC photo/Linda Petersen
+ Enlarge
SALT LAKE CITY — Hundreds of the faithful joined Bishop Oscar A. Solis Jan. 17 at a Mass for the Unborn and Ceremony of Light at the Cathedral of the Madeleine.
Concelebrants were were Msgr. Colin Bircumshaw, vicar general; Fr. Martin Diaz, rector of the Cathedral of the Madeleine; Fr. Francisco Pires, pastor of Sts. Peter and Paul Parish; Fr. John Evans, pastor of St. Thomas More Parish,; Fr. Jacek Buda, pastor of St. Catherine of Siena Newman Center; Fr. Joshua Santos, administrator of St. Ambrose Parish; and Fr. Joseph Delka, parochial vicar of the cathedral.
Deacons George Reade and John Kranz assisted at the Mass.
"We celebrate this Mass to remember the helpless babies killed through the sin of abortion and to seek forgiveness for this sin against God and humanity," Bishop Solis said in his homily.
"We can't be indifferent and spectators in the midst of this evil … where humanity is taking the power to decide who can live and who can die," he said. "Now is the time to put our faith into action and work for the kingdom of God … to march together, to proclaim the value of the life of everyone, men and women. This is our mission of truth."
"It is our moral responsibility to share our Christian belief that every person is a masterpiece of God from womb to tomb but that is nothing if it remains simply words," he continued. "We must be beacons of hope to the world; we have a responsibility to be the light of the world in the midst of this darkness."
Bishop Solis challenged believers to be "agents of change and conviction to stop this evil and sin from happening."
We must have the courage and strength to choose life, he said. "Choosing life is choosing God."
At the Mass, Bishop Solis blessed a delegation of young people representing the diocese who were traveling to Panama for World Youth Day (see the story "World Youth Day pilgrims sent forth with blessing" on the landing page).
After communion, in a Ceremony of Light, members of the World Youth Day delegation carried candles representing the lives of children lost to abortion in a procession through the cathedral and placed them near the altar. The cathedral lights were dimmed for some minutes for prayer and contemplation.
At the conclusion of the Mass, the WYD delegates carried the candles to the Our Lady of Zion chapel, where Knights of Columbus from around the diocese stood vigil over them for some time.
Since the 1973 Supreme Court Roe vs. Wade decision was approved legalizing abortion on Jan. 22, 1973 more than 60 million abortions have been performed in the United States.