Diocesan All Souls Day Mass celebrated at Mount Calvary Catholic Cemetery
Friday, Nov. 11, 2022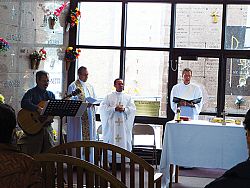 IC photo/Laura Vallejo
+ Enlarge
SALT LAKE CITY — The Diocese of Salt Lake City celebrated its traditional All Souls Day Mass on Nov. 2 at Mount Calvary Catholic Cemetery, observing this day of prayer and remembrance for the faithful departed.
The Very Reverend Langes J. Silva, diocesan judicial vicar and vice chancellor, presided at the Mass. Father John S. Evans, pastor of St. Thomas More Parish, concelebrated. Deacon of the Mass was Deacon George Reade, chancellor.
"Brothers and sisters, we gathered here today to remember all that have died and all those who mourn the loss of a loved one," said Fr. Silva as he welcomed the faithful into the mausoleum, where the Mass took place.
Outside it was snowing and very cold, and although many people consider that bad weather, "as I see it and as many people see it, we get distracted from how beautiful it looks outside," he said referring to all the pine trees covered in snow and the rays of sun passing through them.
In a similar way, many people are afraid of death; "even when we say we believe in the Resurrection we try to avoid using the words 'dead,' 'die' or 'dying' in order to protect ourselves," Fr. Silva said, adding that people try to use less fearful ways of calling death by its real name, and develope way to distance themselves from the discomfort and pain of death.
At the same time, "death is even more difficult when the one that dies is someone that we knew and loved," Fr. Silva said.
He then asked the faithful present to reflect on questions such as how to let go of a child, a spouse or a friend who was loved for many years, or how a person could be expected to move on after the death of a loved one, or how a time frame could be placed on grief.
An answer to all these questions, Fr. Silva said, is the Catholic belief in resurrection.
"This is not the end but a new beginning; this implies faith, trust, connection, relationships, love and hope," Fr. Silva said.
The faithful departed celebrated on All Souls Day "live in a new form and in a new spirit; they are with us in our memories," he said. "Yes, they are no longer physically here, but when we remember how they loved, how they cried, their smiles, how they walked or whom they loved, they are in our minds alive as they were the last time that we saw them."
In his final remarks, Fr. Silva said that people never stop feeling the presence of their departed loved ones.
"Thank God for that grace. … They live in our memories, and so we pray that our merciful God gives peace and grace to the dead and pardon them from any sins," he said.