CCS Refugee Foster Care students celebrate graduation
Friday, Jun. 16, 2017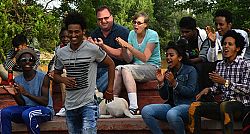 IC photo/Marie Mischel
Photo 1 of 2
SALT LAKE CITY — With applause, balloons and recognition of achievements, the June 9 graduation celebration at Liberty Park could have been mistaken, at first glance, for any one of the thousands of similar festivities that occur across Utah this time of year. The students played soccer, laughed and chatted as they waited for the ceremony to begin. In the fall, they will head their different ways: to Salt Lake Community College, Mountainland Applied Technology College, Dixie State University, Utah Valley University. One has a full-ride scholarship to the University of Utah and dreams of becoming a judge.
A closer look at the 15 graduates, however, would start to reveal the distinction that binds them: Each is a refugee who came to the United States without their parents. Hailing from Eritrea, the Democratic Republic of the Congo, Afghanistan, Burma and Honduras, they all are enrolled in Catholic Community Services of Utah's Refugee Foster Care program, which provides case management services for them until they are 21.
"A lot of the kids arrive when they're 15, 16, 17 years old, and some of them have never really had an education prior to getting to the U.S.," said Julianna Potter, the Refugee Foster Care program manager.
Among the graduates at the celebration was Priscilla Bilonda, who was 14 when she arrived in Utah from the Congo. When she was 3, her parents were killed in the country's civil war. She and her 10-year-old sister made their way to a refugee camp in Namibia, where they joined their aunt and uncle. Years later, the extended family completed the extensive screening process necessary to achieve refugee status.
Like many refugees, Bilonda came to the United States without knowing English. She laughs as she recalls that she knew to say only, "How are you? Fine."
She was scared and shy then, she said, but CCS' activities for refugee foster care children taught her to make friends and trust people, "and that really helped me a lot," she said.
Now, a little more than three years later, she chatters in English as fast and fluently as her classmates at Herriman High School. With diploma in hand, she plans to attend Utah Valley University and major in nursing.
The other 14 students all have similar stories; they have faced extreme violence, corruption or being orphaned, "so they just have a lot of obstacles in their way, and they just seem to leap right over them, which is amazing," Potter said.
During the ceremony, she complimented the graduates by saying, "We're so proud to have seen you grow as people over the last few years, too. We know you've worked hard in school, but you've also worked hard to be really amazing, amazing people, and we're so thankful to know you."
CCS began its refugee foster care program in late 1970s; since then those who have graduated have gone on to serve in the military or law enforcement agencies, or completed college and embarked on professional careers, said Aden Batar, CCS' director of Immigration and Refugee Resettlement.
"I haven't seen any kid who went through this program that fell through the cracks," Batar said. "They all get their high school diploma and then go on to higher education, whether it be vocational training that would help them get a skill or going to a regular college. … Many of these children have lost their family members during the war, or they might have been separated. So instead of them growing up in a refugee camp where they have no future whatsoever, by bringing them [to Utah] they will have a better life in the future."
The foster care program, which now has 95 children of various ages, supervises the licensed foster care family that the children are placed with, and also provides case management, offers life skills training, and encourages them to continue their education.
In addition to the foster care program, CCS also offers similar services to refugee adults and families. They also host two weekly legal clinics to address immigration issues, and help more than 500 people annually become citizens.
"Our focus is family re-unification," Batar said. "We don't want families to be separated, we don't want families to be ripped apart, and also we want refugees and other immigrants who have legal status to get their citizenship."
The refugee case management program lasts two years and covers everything from grocery shopping to riding public transportation, from English literacy to job skills. Volunteers such as those in the Parishes Organized to Welcome Refugees program "play a major role in all those things that we do for refugees when they first arrive, because our staff alone cannot do this work," Batar said.
Volunteers can offer to help mentor a family, a child or a youth; another option is to undertake a specific project, such as the Eagle Scout who recently collected about 20 adult bicycles and donated them to refugees who use them for transportation to work, Batar said.
Last fiscal year, CCS' refugee program served 632 people; they are on track to serve a similar number this year. However, their funding has been cut, and the Office of Refugee Resettlement also is withholding some funds even though the money already has been appropriated, said Batar, who is asking the community for help in this area as well.
"We need your voice. Reach out to congressional leaders about those issues that our refugees are facing," he said.