Carole E. Montmorency
Friday, Jan. 25, 2019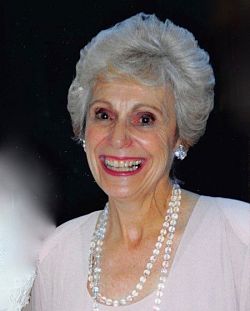 Courtesy photo
+ Enlarge
September 26, 1933 ~ January 12, 2019
Carole E. Montmorency passed away peacefully on January 12, 2019. She was born on September 26, 1933, in Ogden to Margaret (Min) Eccles and William E. Eccles. She graduated from Ogden High School and attended Utah State University, where she was affiliated with Chi Omega sorority. In her later years she graduated from the University of Utah with a bachelor's degree in psychology. She was a lifelong member of the Catholic Church and attended Our Lady of Lourdes Parish in Salt Lake City.
She married Fredrick Montmorency in 1954, later divorced. She had three children: Michelle Montmorency, Michael Eccles Montmorency and John Fredrick Montmorency. She is survived by daughter Michelle (Patrick Aloia-deceased), son Michael (LeeAnn Druce-Montmorency), five grandchildren and a great-granddaughter who will arrive in March 2019.
She was preceded in death by son John Fredrick Montmorency and grandson Matthew Eccles Wallace.
Mom had a very active life. She loved doing volunteer work. She was a member of the PEO chapter in Salt Lake City, was the president of the Assistance League, and was active with Pioneer Memorial Theater. She also loved the Utah Opera, was involved in the Opera Guild and had season tickets up until the last year of her life. She worked at Hallmark in Foothill Village, Eddie Bauer in Fashion Place and Coldwater Creek in Gateway. In her later years, she rescued a retired racing greyhound named Tani, whom she loved so much. Mom was a wonderful entertainer and cook. She also loved working in her yard and her exercise class at the Millcreek Senior Center.
She so badly wanted to see the birth of her first great-granddaughter. She got to see the ultrasound pictures and hear her heartbeat. That kept her going until she just couldn't go on any longer.
Special thanks to Amada Senior Care and to Community Nursing Services for helping to take care of mom in her final days. Also thank you to all her friends whose love she cherished. Thank you for being there for mom.
A funeral Mass was celebrated on January 21, 2019 at St. Ambrose Catholic Church. Carole will be laid to rest at a later date at Washington Heights Memorial Park in Ogden. Arrangements entrusted to Starks Funeral Parlor. Please share your photos and memories with the family at www.starksfuneral.com.
In lieu of flowers please make donations, in her name, to the Humane Society of Utah or Best Friends Animal Society.