Carmen Antonio Mancuso, Jr.
Friday, Jan. 25, 2019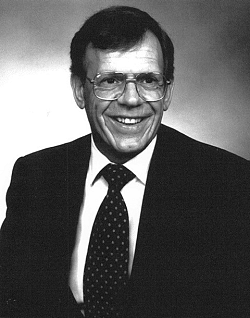 Courtesy photo
+ Enlarge
October 10, 1934 ~ January 12, 2019
Carmen was born on October 10, 1934 in Salt Lake City to Italian immigrants Carolina Barbiero and Carmino Mancuso. After graduating from South High School in 1952, he began working at Utah Power & Light Co. He married Nora Mary Humphreys 65 years ago in Sacred Heart Catholic Church.
In 1955, he enlisted in the Air Force because his draft number was up. He was stationed at Edwards Air Force Base, Palmdale, Calif.; Goose Bay, Labrador; Brunswick, Maine; and Dover-Foxcroft, Maine. Upon his return in 1959, his parents asked him to re-open their neighborhood market. He opened it as the JR Market with hours from 7 to 11 while working at UP&L. He then sold it when the UP&L offered to send him to the University of Utah. He retired from Utah Power & Light after 35 years, in 1987 as a supervisor of the communications department.
He founded Mancuso's Religious Goods in 1991. In 2011, he was vested as a Knight of the Equestrian Order of the Holy Sepulchre of Jerusalem. He made a pilgrimage to the Holy Land with Archbishop George H. Niederauer, eighth Bishop of Salt Lake City, and fellow Knights and Ladies and received the Pilgrim Shell.
He is survived by his wife, Nora; children Tony Mancuso and Cynthia John (William); grandchildren Justin, Tyler, Carmen, Nora and Nicholas; six great-grandchildren; brothers and sisters Ross, Jim (Babe), Lauretta Edlefsen, Catherine Askee-Rogers; and several nieces and nephews.
He was preceded in death by sisters Mary Mancuso-Folger and Teresa Mancuso- Kimball-Thornton, and his power company lunch buddies.
A funeral Mass was celebrated at St. Ann Catholic Church on January 18 with burial following at Mount Calvary Cemetery. Please share your photos and memories with the family at www.starksfuneral.com.
In lieu of flowers, donations may be made in Carmen's name to St. Ann Church or the Catholic Foundation of Utah.