Attorney general to discuss human trafficking
Friday, Jan. 18, 2019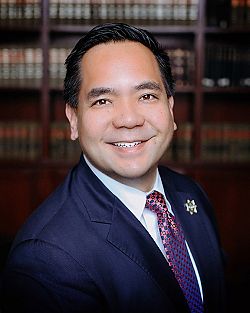 Courtesy photo
+ Enlarge
SALT LAKE CITY — To many, human trafficking is a crime that happens "somewhere else," but the enslavement of people in the sex and labor trades and in other areas is prevalent everywhere. Pope Francis has said it is the responsibility of every Catholic to become informed about this issue and to do whatever they can to combat this evil.
"It is not possible to remain indifferent before the knowledge that human beings are bought and sold like goods," the Holy Father said in his March 5, 2014 Lenten Fraternity Campaign in Brazil. "I think of the adoption of children for the extraction of their organs, of women deceived and obliged to prostitute themselves, of workers exploited and denied rights or a voice, and so on. … The human person ought never to be sold or bought as if he or she were a commodity. Whoever uses human persons in this way and exploits them, even if indirectly, becomes an accomplice of injustice."
According to Utah Attorney General Sean Reyes' website, human trafficking is a $32 billion per year industry, second only to drug trafficking as the most profitable form of transnational crime.
The National Council of Catholic Women sponsors an anti-trafficking project that provides five pathways (education, mentoring, provision, advocacy and prayer) for members to educate themselves, assist survivors and work to end human trafficking. At its annual conventions in 2016 and 2018 the organization passed resolutions urging members to become more informed about the issue, including the potential risk of human trafficking in their local areas, to advocate for legislation to eradicate it and to become involved in youth mentoring programs for at-risk youth.
In that spirit, the Diocesan Council of Catholic Women's group at St. Vincent de Paul Parish is hosting a presentation by Reyes on Jan. 28.
"Most people don't realize human trafficking happens here," CCW President Sophe Derrick said. "They think 'Hey, we're in Utah; that's not going to happen to us,' but it does happen here and Attorney General Reyes has important information to share with us."
Derrick reached out to the attorney general's office in September to have a representative talk to her members about this issue. She was surprised and excited when she was notified that Reyes himself would be coming, she said.
"This is going to be an excellent program," said Pat Voorhes, a DCCW member and former NCCW board member. "Seventy percent of human trafficking victims are women. This is a natural way for us to protect, educate and empower women so they can identify the signs to look for. … We want to make sure we are reaching as many women as we can, no matter what faith they are."
Reyes is the son of a Spanish-Filipino immigrant father and a Japanese-Hawaiian mother and is Utah's first minority elected to a statewide position. Since being appointed to his position by Gov. Gary Herbert in 2013, Reyes has made the elimination and prosecution of human trafficking a high priority. He has traveled both nationally and internationally working to eradicate human trafficking and to educate audiences on how to identify and combat it.
"Human trafficking is not just prevalent in third world countries, it also impacts every community in the United States, including our own," Reyes said. "Vulnerability can come in many forms such as poverty or loneliness and alienation from family or friends. Children and young adults are particularly vulnerable as they are more trusting and reliant on others. I have a responsibility, not just as the attorney general but as a human being, to advocate for those who can't. I am passionate about eradicating human trafficking by bringing awareness and education. We must continue to better our communities – we all play a part."
WHAT: Presentation on Human Trafficking with Utah Attorney General Sean Reyes
WHEN: Monday, Jan. 28, 7 p.m.
WHERE: St. Vincent De Paul Catholic Church, 1375 E. Spring Lane, Salt Lake City
Sponsored by the Council of Catholic Women. Free and open to all.