As holidays approach, Catholic charitable organizations stretch resources to provide for struggling families
Friday, Nov. 11, 2022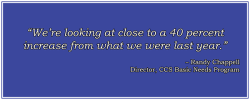 Intermountain Catholic
+ Enlarge
SALT LAKE CITY — As inflation continues to remain high and increased gas, rent and food prices show no signs of abating, many Utahns who were already living on the edge would regularly go hungry were it not for local food banks, pantries and charitable services. This greater need is stretching the resources of many of these organizations, including the Ladies of Charity Center of Hope Food Pantry in North Salt Lake City.
Since August, the number of people being served by the pantry has almost doubled, volunteer coordinator Renae Hollinger said. In August they helped 136 families, comprised of 474 people; in October, that number increased to 220 families, with 822 individuals.
"I think there's a lot of people that have never needed it before," Hollinger said of the food pantry's aid. "We've been averaging about 13 new families a month."
Although the Center of Hope receives food from the Utah Food Bank, the LDS Bishops Storehouse and donations, it is experiencing significant shortages of staples such as pasta, tomato products, cooking oil, rice, dry beans, peanut butter, macaroni and cheese, flour and sugar. There is also a great demand for non-food goods that are not provided by the Utah Food Bank such as diapers (especially size 5), wipes, laundry detergent, fabric softener and household cleaning supplies.
"We have nothing on that score," said Daughter of Charity Sister Germaine Sarrazin, the Center of Hope's executive director.
For the holiday celebrations, the Ladies of Charity are hoping to ensure all their clients have turkeys, hams or roasts, along with all the trimmings. If they do not receive donations to cover these items, they will use their limited funds to purchase them, Hollinger said. These funds are available because last year Bountiful Performance Auto began paying the organization's rent on its building, allowing them to buy extra food, she added.
The Ladies of Charity welcomes both food donations and monetary donations; they may be dropped off at the pantry at 74 South Orchard Drive in North Salt Lake.
Catholic Community Services of Northern Utah is also experiencing a greater need as they try to provide holiday meals for their clients.
"We're seeing a lot more individuals showing up to our pantry wanting or needing food," CCS Basic Needs Director Randy Chappell said. "I think you're seeing a lot of individuals having to make more of a choice in what's important for their family. We're seeing a bigger influx in our pantry just because of gas prices and prices in grocery stores, and inflation in general is really hurting people that live paycheck to paycheck and aren't able to put away money.
"On a daily basis we're seeing about 10 to 20 new applicants come in needing food. We're looking at close to a 40 percent increase from what we were last year," Chappell said. Last year CCS provided 577 households with holiday meals; this year they are planning on 830.
They are hoping the community will help them with this increased need, Chappell said. Their Thanksgiving turkey drive began Nov. 1 and runs through Nov. 21. The Christmas ham drive will run Dec. 1-16. Donations are accepted during regular business hours Monday through Friday at CCS of Northern Utah, 2504 F Ave., Ogden.
CCS should be able to provide the additional holiday foods from the food bank stores, Chappell said.
To donate funds, visit ccs.org; individuals may designate "holiday turkeys or hams" for their donation.
Beyond holiday needs, the organization's St. Martha's Baby Project is experiencing a shortage of smaller-size diapers and baby wipes for its clients, Chappell said. CCS normally gets most of its diapers from the Utah Diaper Bank "but we've seen a greater need in our area for those items than what the bank gives us," Chappell said.
Those who would like to donate diapers and/or wipes can drop them off in Ogden to CCS at 2504 F Ave., or in Salt Lake at St. Vincent de Paul dining hall, 437 West 200 South or CCS at 224 North 2200 West.
The Knights of Columbus at St. Francis Xavier Parish are also gathering donations for Thanksgiving baskets for 100 families in need. Donation boxes are available in the church's gathering space at 4501 West 5215 South, Kearns. Checks can be mailed to St. Francis Xavier School, c/o Grand Knight Chad Vargo, 4501 West 5215 South, Kearns, UT 84118.