'Aquinas Lecture' presentará al Obispo Oscar A. Solis
Friday, Jan. 18, 2019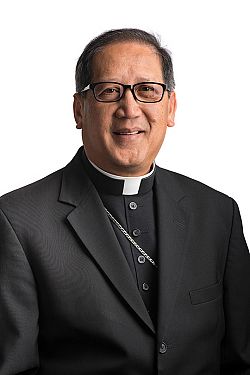 IC foto de archivo
+ Enlarge
Traducido por: Laura Vallejo
SALT LAKE CITY — El Reverendísimo Oscar A. Solis, décimo Obispo de Salt Lake City, presentará la '2019 Aquinas Lecture' en el Centro Newman de St. Catherine of Siena.
El título de la presentación en inglés del Obispo será "40 Years in the Lord's Field: Serving God's People in Five Dioceses on Two Continents."
El Obispo Solis, quien nació en San José, en las Filipinas, fue ordenado al sacerdocio para la Arquidiócesis de Manila el 28 de abril de 1979. En 1984 llegó a los Estados Unidos, donde sirvió en Nueva Jersey de 1984 a 1988, de 1993 al 2003 en la Diócesis de Houma- Thibodaux en Luisiana para después ser nombrado Obispo Auxiliar de la Arquidiócesis de Los Ángeles.
El 10 de enero del 2017 fue designado como el décimo Obispo de Salt Lake City siendo así el primer Obispo Filipino llamado a guiar una diócesis en los Estados Unidos.
La 'Aquinas Lecture' "tiene una historia muy abundante," dijo el padre Dominico Lukasz Misko, director del ministerial de campus del Centro Newman. Entre los ponentes han estado Edwina Gateley, fundadora del Movimiento Misionario de Voluntarios (2016); y el autor y periodista Jesuita el padre Thomas Reese; la Hna. Franciscana Florence Deacon, presidenta de la Conferencia de Lideres de Mujeres Religiosas; y Peter Kreeft, autor de varios libros de filosofía, teología.
QUE: 'Aquinas Lecture'
CUANDO: Domingo 10 de febrero al medio día
DONDE: Centro Newman de St. Catherine of Siena, 170 University St., Salt Lake City
Gratuita y para todo el público.