African school named for its Utah benefactor: Judge Memorial Catholic High School
Friday, Jan. 25, 2019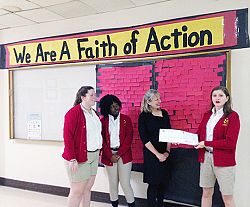 Courtesy photo/Celina Poppe
+ Enlarge
SALT LAKE CITY — Far from the beaten path, visitors to the remote village of Sankama, Mali, might be struck by the unusual name of the new, four-room middle school, Judge Memorial Middle School, and wonder how it came to be.
The Mali namesake became a reality thanks in part to the students at Judge Memorial Catholic High School who last year during Catholic Schools Week raised $4,300 toward construction of the middle school and subsequently won a contest to name it.
The students have always donated to various different charities during the annual Catholic Schools Week, but last year they decided they wanted to focus on just one, Campus Ministries Director Celina Poppe said.
Spearheaded by the 19 students in the school's peer ministry class, the school launched a large-scale fundraising campaign with a variety of activities. Each day students could pay $1 to wear different types of clothing instead of their uniforms. They also sponsored what Poppe called "silly activities," and bake sales were held at lunchtime each day. In addition, peer ministers broadcast daily public service announcements over the school's intercom about Mali Rising and the plight of students in that country.
To help the students envision where their money was going, Poppe calculated that each $3 raised paid for one brick in the $50,000 Mali school. So they built a 'wall' in the school foyer representing every brick JMCHS kids were paying for. The fundraiser was "overwhelmingly successful" and raised far more than any other that the school had put on, Poppe said.
"The kids knew what they were raising the money for and were invested in the project," she said.
Later, the students were notified that in a drawing where every $100 donated received an entry, Judge Memorial had won the privilege of naming the school in Sankama.
Since that time, the relationship between JMCHS and the foundation has blossomed, Poppe said. Students are engaged in two different service projects that will benefit the Mali youth and four JMCHS students have been named foundation student ambassadors. Those ambassadors have committed to completing three projects for the foundation during the school year.
One of the four ambassadors, Nghi Ngyuen, a foreign exchange student from Vietnam, heads up Mali Rising Mondays, where each week up to 30 students prepare French/English flash cards to help their Mali peers improve their English language skills. While French is the official language of Mali, being fluent in English is critical to the Mali students, who must take a test written in English to be allowed to continue their education.
"I think this is a really good project," Ngyuen said. "It gives us a chance to contribute to society and to build up the characteristic of loving other people."
Student ambassador Bella Coronado identified another important need. Teenage girls in Mali often fall behind in schoolwork because when they have their menstrual periods they often take a whole week off as they do not have hygiene supplies. Coronado is gathering supplies to begin working on menstrual kits to send to those students. She hopes to host volunteer opportunities for grade school students to come to Judge to help with the project.
Another student ambassador, Sante Di Sera, is putting together a spring fundraiser for Mali Rising. He hopes to lead other JMCHS students in sponsored hikes and physical activities to raise funds for the foundation.
"Education is something very important to me," Di Sera said. "When I heard how the vast majority of people in Mali don't have the opportunity for education it inspired me."
Poppe said while the students have decided to donate the funds raised during this year's Catholic Schools Week to Catholic Communities Services to help workers impacted by the government shutdown, the Mali Rising project has had lasting impact.
"I think it got the kids a lot more motivated — the idea of the impact they're making, that when you do something and work hard, it makes a difference," she said.
"We are a faith of action," Poppe said. "Catholics don't just sit back and pray. We go out into the world and work to make a difference."