2017 Knight of the Year Holzhauser is 'always the first to volunteer'
Saturday, Jun. 10, 2017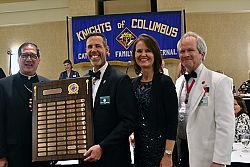 Intermountain Catholic
+ Enlarge
SALT LAKE CITY — On May 6, the Utah Knights of Columbus gathered at their 110th State Convention. Awards were handed out during the banquet to councils whose programs had helped improve the state in some way. One of the most prestigious awards, the Knight of the Year, was presented to Todd Holzhauser, a 4th degree Knight from St. Thomas Moore Parish's Council 11479.
The Knight of the Year Award is a way for "the councils (to) show the pride they feel in the accomplishments and difference that one man can make when they submit a man for this honor," said Utah State Deputy Andy Airriess. "Every man submitted by their councils are men of dedication and service. It is unfortunate we can only have one."
Holzhauser was chosen as the Knight of the Year due to his ministry and work with youth, with his parish and within the Knights of Columbus, Airriess said. "His work with his Council most definitely demonstrates his 'Culture of Life,'" an issue that the Knights support with many activities.
"There are so many people that have helped … me become a better man and a better Knight," Holzhauser said, adding that without these people, he would not have been on that stage accepting the Knight of the Year Award. He singled out for thanks fellow 4th degree Knight Ray Bachiller, who "has been a mentor to me on my whole path;" as well as his wife, Katherina, and daughters Melissa and Caitlin for their support in all his years as a Knight of Columbus.
Being recognized for his work as a Knight has been a great honor, Holzhauser said. Doing charitable work for the Knights has always been "a framework for me to find out what to do," he said. "In this world, it can be hard to stay focused. The Knights of Columbus provide a great opportunity" to find worthwhile things to devote time to.
Holzhauser's favorite aspect about the Knights of Columbus is that "it is faith based. In a world that's increasingly secular, it's a place where it's OK to be religious."
Bachiller said that he couldn't be happier that Holzhauser has been recognized as Knight of the Year. In fact, this has been the fourth consecutive year that he has been nominated for the award to thank him for all he does at St. Thomas Moore Church, Bachiller said.
When asked what Holzhauser's best qualities are, Bachiller said, "It would be easier to find qualities he doesn't have! He's deeply spiritual … and always the first to volunteer" when something needs doing.
Holzhauser has served his council and community in a myriad of ways, Bachiller said. He has been the varsity volleyball coach at Juan Diego Catholic High School, he always helps each week at Mass, plays bass guitar and sings in the music ministry, and even created multiple religious items for the church. Holzhauser runs a woodworking company and has donated a variety of his works that have "enhanced our church," Bachiller said.
As the lead marshal of the 4th degree Knights in Utah, Holzhauser is tasked with organizing the 4th degree knights for ceremonies and other events, and coordinating with the local council's marshals. Holzhauser has served in many leadership positions for the Catholic fraternal organization, from Deputy Grand Knight to Grand Knight, but always tackled each leadership role he has taken on in an effective and honorable way, Bachiller said.
In the past year alone, Holzhauser has attended more than 70 Knights of Columbus events. He seems to be always where he is needed, wherever that may be, Bachiller said.
Each year that Holzhauser did not receive the Knight of the Year award only increased the St. Thomas Moore Council's determination to nominate him anew, Bachiller said. The council and the whole parish can finally breathe a sigh of satisfaction now that the Knight of the Year award has finally come home to Holzhauser, he said.